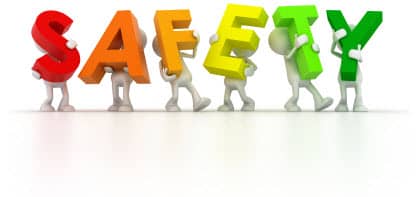 When it comes to the US vs the rest of the world, we don't seem to be on mark for universal understanding. We still use the imperial system of inches and feet while most of the world uses the metric system. But when it comes to safety, the US is striving to make changes. In the Janitorial Industry, we use many products where gloves, special shoes, and other personal protective gear is recommended. Stripper breaks down floor finish and if it touches you, you will get one heck of a chemical burn. The all purpose cleaner you are using, if it gets in your eye, you will run screaming for a water source as it burns in pain. However, if you look at the older labeling of the products you would never know what to use.
Until now! There is a Global Harmonization System (GHS) out there and the US has mandated it for employers, employees, manufacturing companies, and more. This system is designed so no matter where products are shipping in from or to, everyone has the ability to know what to wear to protect themselves, what is in the product they are using, and how dangerous/safe it is. I do fault GHS for not making all 16 sections mandatory, but it's a step in the right direction and if you want to know more keep reading.
The basics of what you need to know. As of December 2013 all employers were to start educating their employees on the new GHS standards. Have you done so? As of June 1st 2015, chemical manufacturers, distributors, importers, and employers were to make any modifications they needed in order to comply with OSHA rules. Are you in compliance? December 1st, 2015, manufacturers were no longer allowed to ship product with old labeling. Finally, June 1st, 2016 all employers were to have employees trained, facilities brought up to comply with OSHA, and to eliminate all old products from their buildings.
So….. where does your facility stand today in 2017. Are you and your employees trained? Do you know how many eye wash stations you need in your building to be in compliance with OSHA and keep your staff and visitors safe? Have you started your new hazard communication program?
If you answered no to any of the above questions, your facility may be cited by OSHA during an inspection. It only takes, one disgruntled employee or former employee, one work place accident, etc for OSHA to come knocking on your door. If you are not ready to answer the door, try coming to our FREE seminar on April 27th, 2017 at the Crowne Plaza in Monroe, NJ. Bring your staff and get trained for FREE and answer the door with confidence.