Do you strip and wax your floors every year or even twice a year? Tired of harsh chemicals, back breaking labor, and time consuming processes? 
Why not give diamond honing a try? Believe it or not many hard stone surfaces can have a natural shine. There is a simple process called diamond honing where you use your existing machines with diamond discs or pads to polish your stone floor.
The process is no different then sanding wood from a rough surface feeling to a smooth surface feeling. For wood you use sand grit. For stones you use diamond grit. The same logic applies: the lower the grit the rougher the cut. The higher the grit the smoother the cut. Diamond discs are available starting at 50 grit and pads are available starting at 200 grit. Both can go as high as 11,000 grit for the highest shine available. Many people like and stop at 3000 or 3500.
During the process, you can start/stop any where at any time. No more waiting until the facility is not being used. Since there are no chemicals involved, the clean up is a breeze and people can walk on it right away without issue. You don't have to wait for finish to dry or worry about the smells bothering/harming any one.
The results are not only amazing but they are simple to maintain. Once you finish the process, whatever grit you stop at is what you put on your floor scrubber for routine cleaning. This will ensure the floor has a consistent shine all year around and you have saved on future labor costs since you will not have to strip/finish that floor ever again.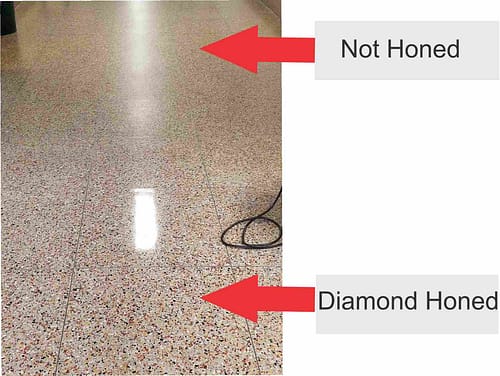 Bio-Shine representatives are trained and available to help your staff with the process. Contact us for a free demonstration by clicking here.