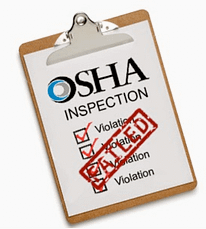 OSHA completed 75,000 inspections in 2016. Out of the top 10 most common citation: #1 is Fall Protection, #2 is Hazardous Communication Standard and #4 is Respiratory Protection. In the janitorial industry these three stand out. So how can you make sure you are not in violation? Education and action. Ensure you are knowledgeable on changes to OSHA Standards and Expectations. Take action to purchase necessary items, ensuring the safety of your staff and compliance with OSHA Regulations. OSHA standards require the employer to purchase and provide protection for the employee when hazardous materials are being used. The new labeling clearly shows the user what should be worn to be compliant with OSHA Safety Regulations: gloves, masks, footwear, etc.
Fall Protection: When stripping floors are you providing proper foot wear to reduce slip and falls? Stripping floors can create a slippery surface. Special footwear is available with extra special grip to avoid slip and fall incidents. When wet mopping floors, a caution sign should be used to warn passersby of the potential for slip and fall. Matting should be inspected and replaced as needed.
Hazardous Communication Standard: By law your Hazardous Communication Program should be up to date. This includes all new information for being compliant with the new Global Harmonization System or GHS. You should have all new Safety Data Sheets on hand in your Right to Know location for all products in your building. All products with old labeling should be disposed of properly following federal/state/local guide lines. All staff should have been trained already on the new labeling system called GHS. If you need assistance with any of this, Bio-Shine can train your staff at your location or help evaluate your facility for improvements to be compliant. We offer FREE Evaluations and Training!!
Respiratory Protection: From grounds keepers to custodial staff everyone should be provided proper respiratory protection. Each type of mask is designed for a specific use. Particulates fly in the air when lawn crews are cutting grass.  So make sure they are protected with the right equipment. You do not want to wear a dust mask when stripping floors. Make sure you are providing a vapor mask when needed. In any instance where a vapor mask is needed, staff needs to be trained on how to fit the mask properly and how to do positive and negative checks for air leaks. Those with an existing breathing condition or heart condition should check with their doctor before using a vapor mask. Bio-Shine partners with Honeywell to provide appropriate training for FREE.
All of the above products are easy to obtain. It is cheaper to buy the products you need then to be cited and penalized by OSHA. If you need assistance in evaluating the needs of your facility, click here to contact us.