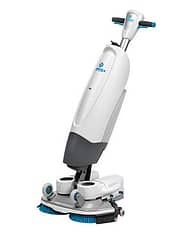 The Tennant I-Mop XL is here!!
Do you have multiple floors to clean and no elevator or tight spaces where your scrubber cannot reach? Well now there is the Tennant I-Mop XL. This unit gives you the versatility of having an 18" scrubber with the maneuverability of a mop. Weighing just 40lbs without the modular lithium ion batteries and featuring a folding handle, you can also carry the I-Mop XL up stairs easily.
The I-Mop XL is equipped with 2 counter rotating brushes at 350RPM and a squeegee system so you continue to have the same performance as a standard scrubber. The unit supports a removable 1 Gallon Solution Tank and 2 Gallon Recovery Tank with an Economy water setting, so you can do more with less! The 2 Lithium Ion batteries gives the I-MOP XL a 60 minute run time. Since the charger only takes 1hr to get your batteries back to 100%, simply purchase a 2nd set of batteries and you will have continuous run time.
If you are already using a color coding system for your mopping, no problem. The I-Mop XL has color coded collars for your brushes and you can order more tanks with snap on color coding as well! Want to use pads instead of a brush, we have that too. Did I mention the unit is versatile?
Using a mop and bucket creates a slip and fall hazard as you are waiting for the floor to dry. Traditional mops also allow you to transport dirt from here and put it over there….not very effective in cleaning. The I-Mop XL allows you to clean and retrieve the dirty water, leaving the floors clean and virtually dry instantly. This unit reduces your labor time along with water and chemical consumption. You save all around!
I have watched for years, cleaning contractors come to our facility for us to fix their scrubber. They pull up, open the back of a van, pull out the base of the machine with help, pull out the tanks and the batteries, then hook everything back up so we can get it to the service area. Doing this day in and day out was they go from one place to another to clean can be exhausting. Not Any More!! With the I-Mop XL, you can use a car if you want. It lays nicely in the back seat. No more back breaking labor to transport the unit.
The I-Mop XL is ideal for cleaning contractors, hospitals, educational facilities, retail locations, and more. Check out the brochure and contact us for a demo today!
Click here for an informational Brochure.
Click here if you would like a demonstration.