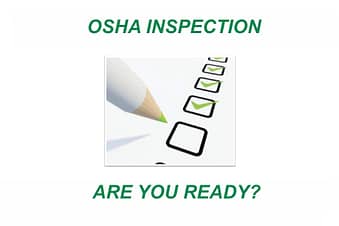 OSHA Rules and Regulations can get annoying at times, comply with this, do that, oh and by the way here is another action you must take. In the grand scheme of things, following OSHA's rules is extremely important to keeping your staff and visitors safe and healthy. Since the US has joined on the GHS (Global Harmonization System) train, OSHA has now put in place a new GHS Enforcement Directive. This means they are employing their inspectors with new criteria to evaluate each site. These inspectors will arrive with a check list and they will definitely be interviewing your staff to make sure everyone has been trained properly.
If you want some bathroom reading material, feel free to read  the 124 page document here. I have actually taken the time to read it for you and can provide some insight as to what the inspectors will be looking for as far as the employers are concerned. In short, you need to have all your ducks in a row for your Hazardous Communication Program. You need to be detailed and proactive. Below is a short list of terms you will need to know.
Terminology: SDS = Safety Data Sheet, MSDS = Material Safety Data Sheet, GHS = Global Harmonization System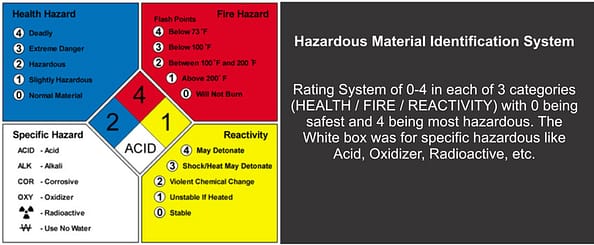 HMIS = Hazardous Material Identification System
CHEMICAL INVENTORY
Ok, so the days of mixing your own concoction with a broom handle in a vat is gone. Oh my special mixture will get graffiti off the walls, but it will also burn your eyes and lungs. But man are those walls clean!! Not any more, sorry. All products must have a manufacturer label on the bottle and you must keep a detailed list of products you use. The most important part is to have the SDS (for newer products) on file in your Right to Know area and make sure ALL staff who will come in contact with the product, know where the SDS is and how to read it.
SDS forms are different then the original MSDS forms. Click here for the SDS layout/information in English and Spanish.
There is some good news, the old chemicals you have, you can keep using until they are gone. That's right, you do NOT have to throw out old chemical. If you have old chemicals where manufacturers have discontinued them, all you have to do is keep the most recent MSDS on file in your Right to Know area. You also have to train your staff on what the differences between a SDS and MSDS form so everyone can stay safe. Don't forget about John's special stash! We all have an employee or two who like to hide their own inventory of products so they always have what they need. Those chemicals also need to be accounted for with SDS or MSDS forms, whatever applies. Click here for the new label layout.
SDS (Safety Data Sheet)
Based on the information in the 124 war and peace novel of OSHA, you can give your staff access to the SDS information either electronically or physically. However, if you give it electronically ie on a computer, you must have a physical back up. So it's easiest to just get yourself a Right to Know kit and put all your pertinent information in there. Everyone needs to have access which does NOT require a lock and key. So when Sally gets something in her eyes and needs to go to the hospital, she can grab the information she needs easily.
The SDS forms are very different from the old MSDS forms. OSHA now has a 16 category layout (Click here for a detailed description). Most categories are required, however some are not. Most important are the Pictograms, click here for a list. The pictograms make it easier for all languages to identify harmful products by referring to images since images are universal.
If you see these pictograms, you most certainly want to think twice before using the product. If you do not know what they stand for, make sure you click above to get the list and familiarize yourself with it to stay safe.
In many instances there are safer and just as effective products on the market to use. If the products are not safe, sometimes there is a safer process to use, cutting out these harsh chemicals altogether. Now, I'm not saying EVERY instance, but many instances.
Make sure you have someone designated to keep track of SDS materials and ensure all new products' SDS forms are added to the Right to Know folder.
TRAINING
OSHA does not have a format on how to train your staff. Do whatever works for you and them. Just make sure all employees know how to read and interpret the SDS labels, difference between SDS, HMIS and MSDS labels/information, what personal protective equipment to use when handling hazardous chemicals in your facility, where the SDS/MSDS information is located, what to do in case of emergency, etc. You do need to document your staff has been trained, on what they were trained, and how you did the training. Keep in mind, if your staff is instructed in a different language, your training must also be performed in the same language.
Does your staff look like this during training? Try to keep them awake and engaged. Ask questions and make the training interactive. Or use a fog horn, a classic always sure to get people's attention!
Remember, training is ongoing. It would be wise to conduct trainings every year to update staff on new chemicals introduced or old chemicals eliminated. You should be training your staff as soon as a new product is introduced to your facility. All new employees should be trained either before they start their first day or on their first day.
IGNORANCE DOES NOT EQUAL BLISS IT EQUALS CITATIONS AND FINES! so make sure you are up-to-date on GHS and OSHA Safety. If you need a new Hazardous Communication Program, click here for a layout.
All of the above information and more is located in the 124 page document found here. Knowledge is power. Educate yourself so you can protect your facility from citations and your employees from hazards.
If you need help with anything, Bio-Shine is always at your disposable to help with training. You can contact us by clicking here.