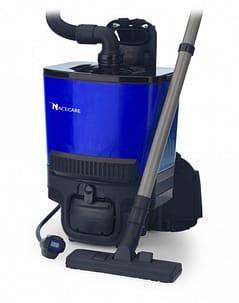 Are you tired of tripping over cords with your back pack vacuum? Does the suction start to be a problem as the bag fills? Not with NACECARE Solutions' RBV130! NACECARE Solutions' battery back pack vacuum is the best on the market. The RBV130's tank is 1.5 gallon capacity and includes standard HEPA Filtration. You know what sucks? The RBV130. With its feature of an internal rib design, the bag cannot seal against the side of the compartment. So no matter how full the bag is, you can keep on sucking! (Click here for a Spec Sheet)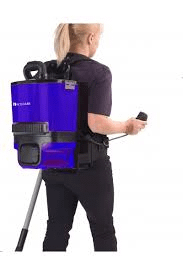 The unit features a hiker harness, so the weight is evenly distributed on your body, making it the most comfortable fit for any size user. I'm 5' 1" and 115lbs soaking wet. This vacuum is a comfortable fit even for me. So no matter how big or small you are, this unit is perfect! At 45dB, the RBV is as quiet as a computer or refrigerator and can be used for daytime cleaning without disrupting workers. Not to mention your hearing will be saved compared to other louder units. The unit also comes in electric as the RSV130 (1.5 Gal) and RSV200 (2.5 Gal). All the same benefits with a cord electric unit. (Click here for a Spec Sheet)
The RBV's lithium ion battery provides 45 minutes of run time and only takes 2.5 hrs to recharge. Remember the amount of time actively using a back pack is about the time it takes you to walk a facility. So 45 minutes is great. If you need more time, get a 2nd battery and up your run time to 1.5 hrs.
Need to do stairs, no problem with this unit! Since you have a battery, no need to prop open doors and try to find an electrical outlet in the stairwell (which is impossible!!). Do you see the guy in the photo above? The cord goes down the stairs and around behind the stairwell. How far do you think he can go before he has to go back, unhook the cord and find another outlet? Maybe the top of the stair. It's very inefficient and a trip hazard. Remember trip hazards are on the top 10 OSHA reported issues. Don't be this guy. Just clean while on the go, cord free and safe: stairwells, bathrooms, classrooms, under office desks, etc.
If you can stand and reach it, you can clean it.