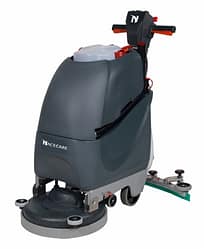 NACECARE Solutions has been developing cleaning equipment for just over 30 years. They specialize in supplying uncomplicated and dependable machines to our industry. The TGB817 and TGB1120 are great efficient compact scrubbers. The TGB817, an 8 Gallon 17" Pad Assist Unit, features a fully adjustable handle to provide the proper height adjustment for any size operator. The squeegee assembly uses a quick release system for easy cleaning, flipping, or changing of blades. No worrying about battery maintenance with this unit! The TGB817 is equipped with (2) 80AH Gel Batteries (maintenance free) to give you 2-2.5 hours of run time, and an on-board charger so you can charge the unit at any outlet. (Click here for a spec sheet)
Are you tired of getting on the floor and messing around with the pad driver when you need to change pads? Not with these scrubbers! The TGB817 and TGB1120 have a patented flip-up head design, so you can change pads, pad drivers, or brushes easily. Both Units have maintenance free gel batteries and an on-board charger.
The TGB1120 features an 11 Gallon Tank with a Pad Assist 20" Scrub Head and (2) 100AH batteries, giving you 3-3.5 hours of run time. The unit has the full adjustable handle, quick release squeegee for blade changes, and a fully adjustable solution flow. No more filling with buckets or running back to the custodial closet to fill the unit! The TGB1120 also has a quick fill hose, allowing you to fill from any sink. (Click here for a spec sheet)
Both the TGB817 and TGB1120 are worth the investment to have easy, dependable scrubbers. As NACECARE Solutions continues to invest in new product development and make changes to their machines based on user needs, we will continue to bring you the latest information on what they have to offer the Janitorial Industry.