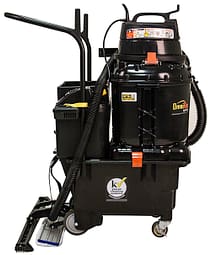 Are you looking for a quick, low cost, effective way to clean gym floors, cafeterias, lobbies, hallways and more? Well look no further! The Kaivac Omniflex Autovac is the way to go. This unique small scrubber does the job and is an economical way to get your floors looking better, faster. Don't believe it? Check out this quick video!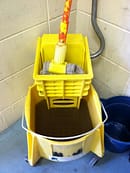 The old mop and bucket routine only transfers dirt from one area to another. Think about it…. You start with clean soapy water, you dunk your nice looking new mop into the clean water, slop it on to the dirty floor, then pick it up (with all the dirt) and plunge it in to the clean water. Now your nice clean water is dirty and soon your bucket looks like the one above. So you now take dirty water and put it on the floor, over and over again. You are getting nowhere fast and using a lot of labor to do it. Those wet mops are heavy when they are filled with water. Not to mention the wet floor signs and hoping no one slips and falls. (Slips and falls are among the top 10 OSHA concerns/violations.) The mop and bucket were great for its time, but technology has come a long way.
Microfiber is the way to go and this unit embraces microfiber. With the use of a 28" microfiber pad being pushed across the floor, your floors are getting clean. To ensure maximum cleanliness and safety, they added a squeegee too! So the microfiber pad is collecting all your dirt AND your squeegee is picking up any water left behind. Together this unit retrieves 99.8% of targeted soil. You also have the option to double scrub those stubborn areas by lifting the squeegee. OR if there is a spill and you only want the squeegee, you can remove the microfiber spreader. Versatility at its best!
Kaivac offers the Omniflex unit in both battery and electric. The battery unit allows you the freedom to go where you need to without worrying about where the next outlet is. The electric unit gives your facility the cost-effectiveness and reliability to purchase a scrubber to save you time and physical labor. This 10 Gallon 28" machine only costs about 10-25% (depending on which version you choose) of what you would normally pay for a standard scrubber of the same size. (Click here for a spec sheet)
Want the best of both worlds? Buy a battery unit and purchase an extra electric corded vacuum head. You can switch easily between the two for maximum versatility. Talk about flexibility, it also doubles as a portable wet vacuum when you purchase wand tool.
Need something portable? The Omniflex works well for that too. If you have multiple floors and no elevator or if you are a cleaning contractor and need to transport your scrubber, the Omniflex is light and easy to break down. With its modular design, there is no back breaking lifting happening here.
Cost Effective, Portable, Versatile, Battery or Electric, Easy to Use: All around the Kaivac Omniflex Scrubber is a great addition to any facility. Call today for a FREE Demonstration.