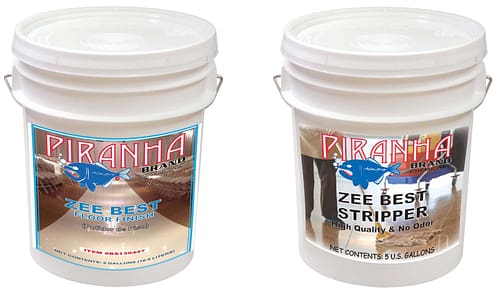 Bio-Shine Inc. has been among the leading janitorial suppliers in the NJ/metro NY area for over 25 years. So when it comes to knowing what's the best floor finish and stripper, we are here for you. Over the years we have seen floor finishes and strippers evolve and now we find Zee Best products are performing excellent in the field.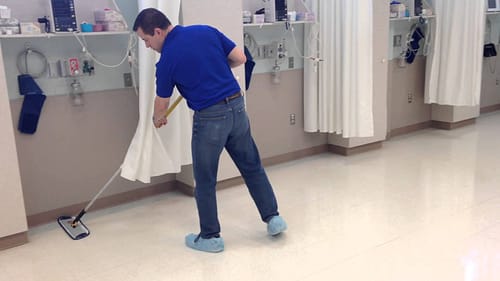 Piranha Brand Zee Best floor finish is a 25% solids finish leaving a nice glossy, wet look to your floors. This finish has a new polymer formula allowing it to last long, give you a high gloss, and allow for recoats in less than 30 minutes. When putting down 4-5 coats of finish, you usually have to wait about 45 minutes for each coat to dry, for standard finishes, before applying another layer, unless you pay extra for fast drying finish. Zee Best Floor Finish is modestly priced and allows you to apply coats in under 30 minutes. It has excellent scuff resistance and responds well to burnishing. Piranha Brand Zee Best floor finish will stand up to even the most aggressive burnishing programs, keeping you glossy all year.
Are you tired of strippers smelling so bad you have a headache? Piranha Zee Best Stripper is not only effective but also has low to no odor. This stripper as the ability to remove both metal-linked and zinc-free finishes easily. Zee Best Stripper is highly dilutable and needs no rinsing. It is also safe enough to use on asbestos flooring. (*Make sure you use all specialty processes to remove finish from asbestos flooring.) For normal floors, just apply the solution, allow to sit for 5-10 minutes, then agitate with a stripping pad to remove old finish.
If you strip your floors with Piranha Zee Best Stripper and follow up with Piranha Zee Best Floor Finish you will have Zee Best Floors!
Piranha Zee Best Stripper 5 Gallon Pail – BS128713
Piranha Zee Best Floor Finish 5 Gallon Pail – BS130447