ESCNJ is the largest State Approved Co-op in NJ available to schools, municipalities, county governments, colleges, universities and more. ESCNJ has made it very easy to join and take advantage of bid pricing in many categories including but not limited to: computers, security materials, athletic products, janitorial/custodial supplies, maintenance equipment, etc. Bio-Shine Inc. has been and continues to be a vendor approved on the ESCNJ contract in many areas for custodial supplies and maintenance equipment. Below is a list of manufacturers we represent on the contract: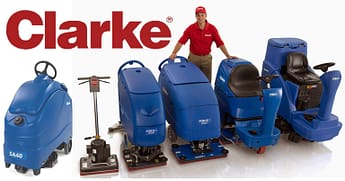 Clarke – A division of Nilfisk Group, Clarke manufactures cost efficient and effective cleaning equipment. Clarke was the original manufacturer of the oscillating technology in the floor machines and auto scrubbers. Clarke offers a wide range of equipment from upright vacuums to ride on auto scrubbers and now a stand on scrubber as well.
Hawk – Hawk Enterprises prides themselves on providing quality floor machines at competitive prices. They offer floor machines, bunishers, extractors, wet/dry vacs, upright vacuums, and air movers. Hawk is the only manufacturer to present to its customers the cantilever handle on the oscillating floor machines. This product design allows operators to use this equipment with little to no vibration being transferred to the operator.
Kaivac – With their no-touch restroom cleaning units, 500 psi hose and all in one machine, Kaivac is the leader in restroom cleaning machines. They have also started to branch out and now offer the Omniflex Autovac, a modular bucket, 28" microfiber cleaning head, and wet vac. The Omniflex Autovac is available in electric or battery and makes a great cost efficient scrubber.
Nobles – Nobles brings you an economical full line of equipment from upright vacuums to ride-on scrubbers and more. They will keep your facility clean and be easy on your budget.
Tennant – Tennant presents user friendly, high tech equipment. The T300 walk behind scrubber has been a great addition allowing users to pop off the magnet rotary brush/pad driver with ease. With an intuitive LCD screen, you can see exactly how to replace squeegee blades using the simple yellow touch point system, how to water batteries, and more. Tennant offers a full line of products as well from upright vacuums to ride-on scrubbers and allows users to customize their units to their needs. Soon to come T500 and I-Mop XL.
Cleanmax – Cleanmax brings you a superior line of small equipment including upright vacuums, wide area vacuums and back pack vacuums. Their upright vacuums have metal brush rollers with replaceable bristle strips to keep your replacement costs down.
Nacecare – Nacecare Solutions, home of the smiling Henry Vacuum, presents a full line of equipment with a specialty line of dry vacuums. They have a top-quality back pack vacuum with a hiker harness, special internal fins in the casing so the bag doesn't lose any suction and a cordless option. Nacecare Solutions also has a steam cleaning machine JS1600 and a unique Duplex unit to clean both carpet and hard floors.
NSS – NSS offers a full line of equipment from upright vacuums to ride on scrubbers. Their E-Force Rider Burnisher is among the newest addition, giving the driver a joystick control and a front end burnishing pad so you can get those harder to reach areas.
Odorox – Odorox Air Technologies presents a line of green germ killing technology with the use of Mother Nature's hydroxyls. Hydroxyls are created by nature to scrub our air of mold, bacteria, viruses, odor and more. Harnessing the technology and putting it into a varied size of units, allows us to now use this green germ killing technology to keep our buildings clean and germ free. Smaller units are used for classrooms/nurse offices all the way to units fitting in HVAC systems for entire buildings or curtain systems for locker rooms and sports arenas.
Piranha – Piranha Brand brings you quality products at competitive pricing for cleaning chemicals, floor finishes, stripper, floor pads, safety products, microfiber, food service needs, trash bags, custodial equipment, and more. With their full catalog, they offer everything including the kitchen sink!
Betco – Betco is a leader in janitorial cleaning chemicals. They offer everything from floor wax and stripper to quat disinfectants and everything in between. Betco uses their Fast Draw chemical dilution control system for concentrated products and also offers a full line of ready to use chemicals as well.
Brulin – With the invention of Brutabs, Brulin has made a name for themselves in the janitorial market. Brutabs are the space saving, safe bleach alternative using chlorine instead of harsh chemicals. It leaves your rooms safe for kids and smelling like a fresh summer pool.
CPI – Creative Products Inc. brings you a premium line of microfiber products. This microfiber is triple split and able to be laundered thousands of times without losing its effectiveness to clean. Aside from the standard microfiber cloths and pads, they offer a flexible duster for hard to reach areas, a microfiber washing machine, charging buckets for faster cleaning, trowels and pads for table tops and cafeteria tables, and pocket pads for floor cleaning so your pad doesn't fall off the frame. It is also the best way to lay floor finish.
Envirox – Envirox offers a superior line of effective green cleaning products and their famous H2Orange2. With their patented dispenser and green/red color coded system, it makes cleaning easy and efficient. One chemical can cover about 90% of your cleaning needs and it is one of the safest products to use keeping children and staff healthy. For those who do not like a one product fits most concept, they also offer a degreaser, mineral breakdown product, floor neutral cleaner, and more. Envirox also has a 24 hour residual kill product called Critical Care for when you have a tough time keeping the spread of germs down.
ETC – ETC of Henderson bring you a wide array of floor pads from standard cleaning pads, sand screens, carpet bonnets, burnishing pads, specialty pads and diamond pads. They also have safety stripping shoes and replaceable soles.
Kutol – Kutol presents a top-quality line of hand soaps and sanitizers. With manual or hands free dispensers and an array of products from quat based, alcohol based, pumice industrial products, and more. You can choose foam or liquid soap and use bags or gallon product.
Nittany – Nittany offers an economical line of paper from toilet tissue, roll towels, c-fold, etc. Instead of paying high prices for paper which only either gets flushed or thrown away, you can keep control of your budget by trying Nittany.
SCA/Tork – From toilet tissue, hand towels, skincare, sanitizers and other washroom needs to napkins and food service needs, SCA/Tork provides you with sleek, quality products. Their products feature the highest sustainability in the industry while keeping you looking professional all the way.
If you would like to see catalogs of products you are interested in, click here.