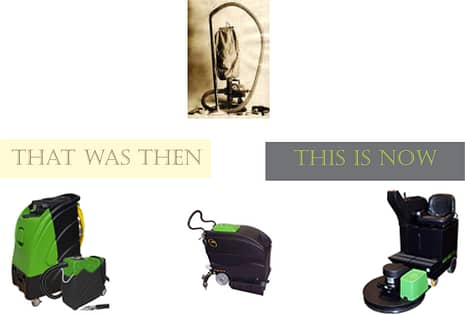 NSS has been manufacturing cleaning equipment for over 100 years. Starting back in 1911 and making cleaners for boilers, so they could run more efficiently, NSS has come a long way. As they entered into the 21st century with technology changes, one thing remains the same, NSS machines are built to last, be serviced and stay out of landfills. Case in point, in the 1940's NSS created the Pig Vacuum. Revolutionary for its time, the motor was housed inside a cast alloy body and was rendered nearly indestructible. Believe it or not, in 1995 they found this original version still being used in a movie theater to pick up popcorn and other candy left behind. Granted not all units last 50 years, but it testifies to the durable simplicity of NSS machines.
Looking forward to the present, NSS has also continued to be an innovator in the Cleaning Equipment Industry. Their most current innovations are the Eforce System, Rally Extractors, and Wrangler 2010 AB Scrubber. Winning 3 ISSA Innovation Awards since 2008 shows just how strong an innovator NSS has become.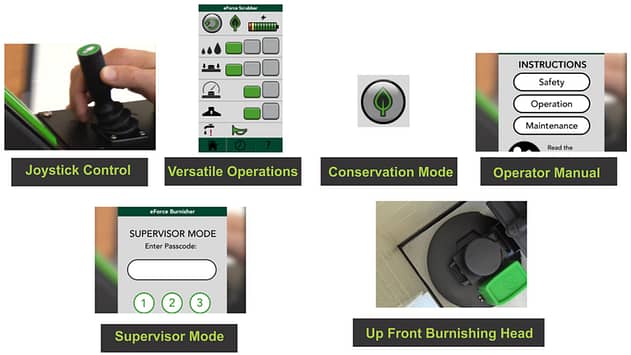 The Eforce System comes on the Rider Burnisher and now the Scrubber as well, allowing the operator to use a joystick control to improve driving precision and reduce operator fatigue. With a Supervisory Mode built in the Supervisor can set the unit to only run on preset levels. So no more staff using too much down pressure when burnishing, or using too much water when scrubbing. Not sure how to change the squeegee blades (scrubber) or change the pad (burnisher), no problem. The unit has a full LCD Screen with the operation manual available for viewing in 3 languages: English, Spanish, and French. On the Burnisher Rider, you have the pad in the front of the unit allowing you to get right to the edge and into corners where other burnishers cannot go.
Check out this video:

Eforce Scrubber Features: Three solution flow rates, three pad pressures, two scrub speeds and two vacuum motor speeds give you complete control over how you use the eForce Scrubber. Want to reduce water usage, power usage and noise? Just press the Conservation Button. With one touch the unit reduces all three settings to minimal usage.
The Rally 1200 stands out as a dual surface cleaner. At 1200 PSI you can hook up the Hard Surface Cleaning Tool equipped with 2 water jets spinning at 1400RPM and annihilate dirt from grout/tile and other hard surfaces. The unit gives you the option to reduce the PSI to 500 and hook up a carpet tool. So if you have to restore kitchen or bathroom floors and then do carpeting, no problem. Instead of buying two machines, just get one to do both jobs! Click here for a full spec sheet.
Users spoke up and NSS was listening. The Wrangler 2010 AB was redesigned in 2015 with many improvements. Supported on the new unit is an ergonomic handle design and curved squeegee for tighter turns without loss of water retrieval. A new debris catch helps prevent clogging the vacuum system and recovery tank. A longer expandable drain hose makes getting to your drain easier. No new keys with this unit as it now accepts the standard key for all NSS machines. You try to beat it up and NSS makes it stronger. Improving durability, NSS added thicker shrouds to keep the water under the unit for better retrieval. The axle is 3 times stronger and caster wheels now have a premium sealed bearing. That's not enough? Click here to see more features and benefits on the Wrangler 2010 AB.
Whether it's scrubbers, burnishers or extractors, NSS is leading the way in innovation. If you are interested in having a free demonstration on any of these units you can contact us by clicking here.