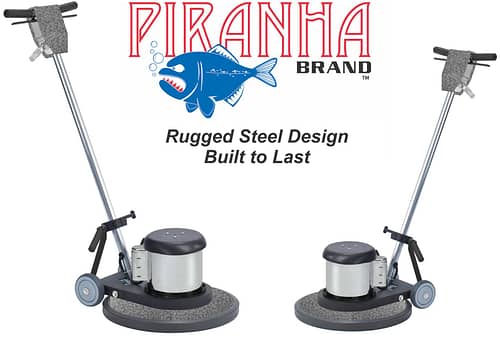 Piranha Brand floor machines have been around for nearly 20 years. Tried and true, these rugged steel designed conventional units come in 17" and 20" most commonly and include a pad driver. With a 1.5HP AC driven brush motor and twin capacitors, these units are built to last. Piranha Brand offers a variety of accessories to tackle any job: sand screening for wood floors, pads for polishing, scrubbing and stripping, splash guards for wet brush or diamond honing applications, unicorn weight kits for added down pressure, and more! Click here for a spec sheet.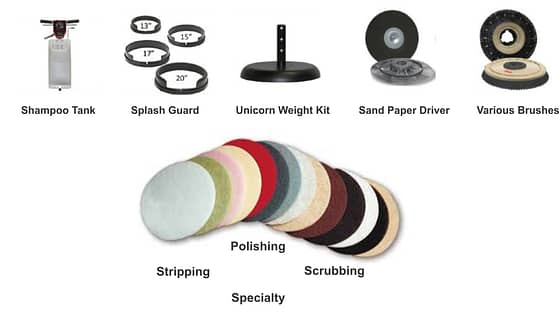 Believe it or not most people use too much cleaning chemical on their carpets, leaving behind a residue dirt can stick to. If you use a floor machine with a shampoo tank filled with just water and a shower feed shampoo brush, you are bound to make your carpets look like new. You will be surprised! Don't need to restore your carpet, just get a carpet bonnet pad for general cleaning.
There are even Piranha Brand Pads for specialty applications: an Astroturf pad can be used to scrub tile and grout effectively; an Eraser Pad can be used on halls to remove a variety of marks especially black scuff marks easily. Do you have stairwells with those nubbed rubber floor treads? Ever try to get them to shine? Well, you can. Just use a dry Tampico brush on a standard floor machine and shine away!!
Want to go deeper? If you have Terrazzo or other stone surfaces, you can use a conventional Piranha Brand unit with a weight kit to diamond hone. Just have Bio-Shine custom make your diamond pad driver and demonstrate how it's done. This provides you with finely polished stone creating a wet shine look with NO Floor Finish. No more stripping and waxing, just maintain with Diamond Pads throughout the year.
Whether it's diamond honing stone, restoring grout and tile, deep carpet restoration, stripping, polishing, and more, Piranha Brand machines do the job! Click here to request more information.