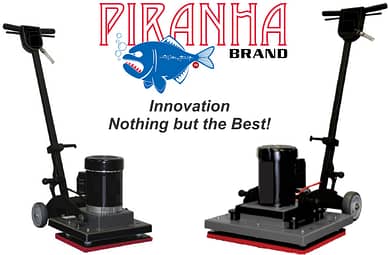 Piranha Brand Machines have been around for over 20 years. When Oscillation Technology came out, Piranha Brand waited to see what common issues the industry would see, so they could bring you only the best, most reliable units. The Piranha Brand Oscillating Lite and Ultra Edge Machines stand out. With oscillation technology, you can deep scrub with little to no water into corners and along edges using Maroon Surface Prep Pads. Cleaning is more efficient as the pad is scrubbing the floor 28 times a second.
With a cantilever handle, the operator feels less vibration, keeping your operator working longer with less fatigue. After having the Piranha Brand units in the field for approximately 5 years, they have only seen 1 unit need warranty. That alone speaks volumes for how reliable the Piranha Brand Oscillating Machines can be for you! Click here for full spec sheets.
Need more down pressure, get the beefed up version in the Ultra Edge 14" x 20" or 14" x 28" with 250-305lbs of down pressure. Great for diamond honing and deep scrubbing. Let the machine do the hard work while you just guide it along. Or go light with the 14" x 20" Oscillating Lite machine. With 162lbs of down pressure, this machine is a great addition to any fleet.
Have smaller areas like restrooms needing some TLC? Try the Ultra Edge 14" x 10". This small machine packs a punch and is great on grouted floors with the astroturf pad and some peroxide cleaner. This specialty pad helps get into crevices and rejuvenate those grout lines!
All Piranha Brand Oscillating Lite and Ultra Edge units can be fitted with a variety of accessories to tackle any job! Active dust control using a vacuum system, shampoo tank, or standard passive dust control skirting are all available. Do multiple jobs with one machine using a variety of pads: diamond honing, standard stripping, dry stripping, deep scrubbing, daily scrubbing/cleaning, polishing, tile/grouted floors, and more! Just have one of Bio-Shine's representatives come out for a demo so you can see it in action. Click here to set up a demo.