Tennant just launched their new T350 Stand On Riding Scrubber and they didn't hold back on ease of use and other advantages. The T350 still supports the same easy to access battery compartment, so maintaining clean, properly watered batteries continues to be painless. Tennant also included the option to use Smart Water for automatic battery watering, a new and awesome feature to keep your batteries in optimal condition year round. Recovery tank messy, no problem! Tennant added a larger cover to make it easier to clean. Keeping with ease of use, the insta-click pad drivers and brushes are also available on this unit. Tennant's new magnetic hubs simplify removing your pad drivers/brushes with just a push of a button and installing by sliding the piece under and allowing the magnet to click it into place. You can't get any easier than that! Click here for a full brochure.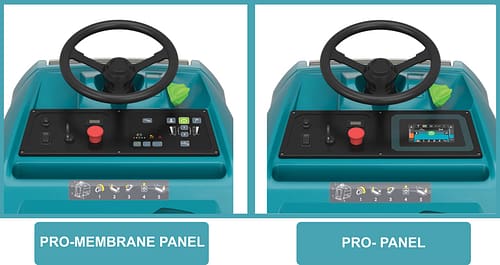 Tennant continues to deliver in ergonomics and innovation with their control panels on the T350. For safety, before engaging motion, the forward and reverse light will blink until you tell the unit which direction you want to go when pressing the pedal. The larger green knob gives users an easy way to adjust speed while in motion. Having the option of the Pro-Membrane or Pro-Panel gives you options for your budget and your users. The Pro-Membrane Panel allows for simple button controls including: severe environment, quiet mode, ec-H2O NanoClean, solution and pressure adjustments, and zone settings. The state of the art Pro-Panel has all this and more! With a full LCD Screen the Pro-Panel allows for user ID login for personalized settings, extra zone settings with naming capabilities, and full video instructions on using and maintaining your Tennant T350. While cleaning you can choose between 4 cleaning modes: Standard Cleaning, Quiet Mode (for sensitive areas), Severe Environment Mode (for harder to clean areas), and ec-H2O NanoClean (Tennant's specially designed water only cleaning).
Still not sure? Watch this short video:
Want maneuverability? Yup Tennant thought of that too! Whether you are in retail, educational facilities, hospitals, and more the Tennant T350 can handle edges and tight spaces. Adding up maneuverability, a 14 gallon solution tank, and ec-H2O NanoClean Technology, you can clean faster and longer covering over 30K square feet per hr. Now if you tried to walk 30K square feet per hour, you would be exhausted. But not with the Tennant T350! You have fun cleaning while riding on this scrubber.

Tennant did an excellent job in creating a Stand On Rider Scrubber. Bringing you only the best with their T350: innovation, ease of use, ergonomics, productivity, and maneuverability. They all add up to give you Confidence in your cleaning! Click here to schedule a demonstration.