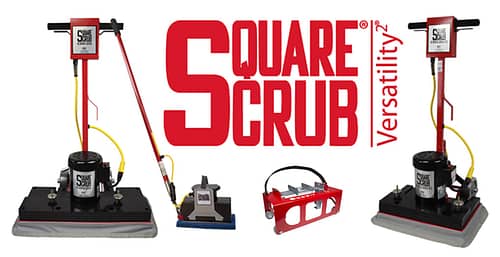 Square Scrub is a manufacturer of floor preparation machines who pride themselves on being made in America. With steel from Arkansas and motors from Wisconsin, you can be sure this unit is 100% American made. Square Scrub also understands time is money, and they have dedicated the design of their units to maximize productivity. With their unique design of the EBG series floor machines along with an array of pads, Square Scrub is ready to tackle any job with efficiency.
Their Doodlescrub (EBG-9) unit is taking the cleaning industry by storm. This little 5" x 9" unit packs a punch with delivering the same amount of down pressure per square inch as the big brother EBG-20. The Doodlescrub makes edging and those hard to reach spaces much easier to clean and prep: in restrooms, around toilets, under partitions and urinals, stairwells, along edges and more. With the new, innovative Doodle Skate, the unit can also be turned on its side to do baseboards! Watch the video below to see for yourself.

The Standard EBG units come in 20" and 28" with a 1.5HP motor and weigh between 200lbs and 325lbs to do moderate to large jobs. Removable slotted weights makes it easy to conform the EBG to any job. Both units come with standard dust containment skirts. Click here to check out more specs.
Doing a lot of sanding? You can add a HEPA vacuum system for added filtration. Want to clean your carpets too? No problem, just remove some of the slotted weights, add a microfiber carpet pad and clean away. Tile and grout are a breeze with the new blue scrub pad as well. Check it out here to see how it's different from the standard green astroturf pad.
Are you in construction? Do you remove carpeting or tile and still need to get the sub-floor smooth? Try using the EBG units with the Abrader Plate. Let the machine do the work so you don't have to hurt your knees, back, and arms! You will definitely save on labor time, money, and physical energy.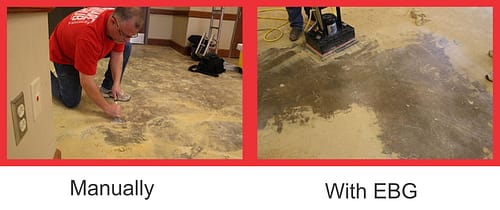 Have Terrazzo, Marble or other stone flooring? Try diamond honing with Square Scrubs EBG units and their 3M diamond honing line of products. No more floor finish and stripping. Use their 3M diamond Trizact pads in course, medium and fine to prep the floor. Next use the purple pads to get the shine you like. Enjoy shiny floors all year round!
Whether it's cleaning hard to reach areas, tile and grout, sanding, dry stripping, diamond honing, abrading and more, Square Scrub has certainly designed units to tackle these jobs and keep on going. The Square Scrub EBG series give outstanding performance and show results. If you would like a free demonstration, click here to contact us.