Since the early 1900's Clarke has been blazing the path with equipment. Starting with sanders, Clarke has worked their way decade after decade on adding new equipment to the line. They continued after 100 years to be an innovator to the cleaning equipment arena focusing on productivity, durability, ergonomics, and operator safety. Now Clarke brings you the SA40 Stand On Scrubber!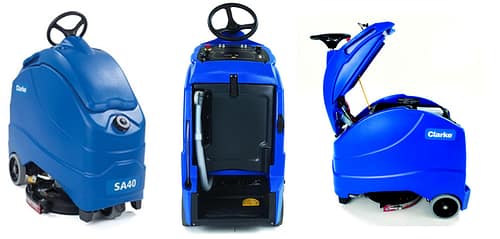 Want to clean for longer periods of time and maximize your productivity? The new SA40 boasts a 12 Gallon Solution Tank and a unique low flow setting to give you 75 minutes of cleaning capability. Heavily soiled areas are no problem for the SA40 as it delivers 75lbs of down pressure when needed. Check out the specs on the SA40 here.
Ergonomics and Customization? Clarke has that too! The SA40's controls give you all the options with individualizing the down pressure, vacuum, and solution flow buttons. Keeping all buttons at your fingertips so you can change on the go. Just want an easy one touch? Yup, you guessed it. The SA40's one touch scrub button makes it easy for operators and simple on training. Use SA40 to clean in noise sensitive areas during the day with a special quiet mode button. The SA40 also includes a fill port in the front and back of the unit. So no matter which way you put the unit into a closet, a fill port is easily available.
Clarke designed the SA40 with maintenance in mind. The unit supports a larger recovery tank lid, so cleaning your tank is easier and more efficient. Accessibility to the tank and batteries is easy with the clam shell design. Just lift the operator section up and tilt back the tank to have more than enough room to perform any maintenance. Keeping with all Clarke scrubber designs, the solution filter is conveniently located on the bottom left of the machine, easy to get to without lifting tanks or lids.
Whether it's ease of use, productivity, or maintenance Clarke packs it all in the SA40. Take it for a spin on a demo like Leon did. Check it out below. Click here to request a demonstration.