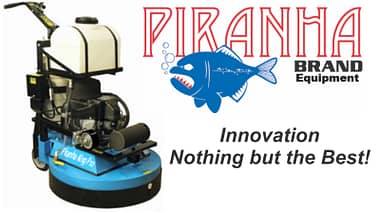 Do you have Terrazzo, Marble, Concrete or another hard stone surface with the ability to be diamond cut? Do you have miles of floors to strip? If you want the results you see below, diamond honing and stripping can be a labor intensive process, especially if the floors need a lot of work. Swinging around weighted floor machines takes its toll on the operator and the machine. If you are a facility who is investing in polishing your hard stone or concrete floors or have large stripping jobs or a cleaning contractor who wants to specialize in diamond honing or stripping floors for customers, do it right with the Piranha King Pro.

The Piranha King Pro is a propane engine power diamond honing, stripping, and polishing machine. With a Kawasaki 603CC Engine and 330lbs of down pressure, the Piranha King Pro muscles its way through hard stone and wax to get your surfacing looking the way you desire. The King Pro has a 30" path to reducing labor time and is easy to use reducing fatigue. Click here for a full spec sheet.
The King Pro can successfully be used for removing paint from a concrete warehouse floor as seen below. Warehouse floors can be revamped, cut and polished to look professional using the Piranha King Pro.
Three brushes spin at 250RPM while the entire head moves clockwise at 1295RPM, giving the unit more than enough motion to power itself along. The brush heads have a quick release and can be changed out for stripping, diamond honing, or polishing jobs. Watch the short video below of a real time customer diamond honing to see how easy it is to use.
Worried because it's a propane unit? Rest assure the Piranha King Pro meets many safety specifications such as the US Green Building Council LEED IAQ with credit 3.4 requirements. The unit is CE, CARB, EPA and GS-42 Compliant. The King Pro boasts a low oil shutdown and safety regulator fuel system. You can also put in a special request for a Blue Sky Certified Engine.
You can safely deliver quick, easy, and effective results with the Piranha King Pro. Polishing, Stripping, or Diamond Honing, there is no job too big for the King Pro! Click here to schedule a demo.