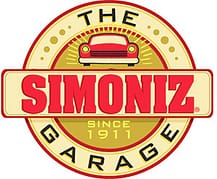 Simoniz, the oldest car care brand in the US, was actually founded back in 1910 by George Simons making one of the first car cleaners and waxes. Over the decades Simoniz rose above to be the most advertised car care product in the auto industry. Chosen as the #1 product by dealers and car enthusiasts, Simoniz continues to provide the market with high quality products you can trust. Why do I talk about a car care company you ask? As the industries have changed, so has Simoniz. In the late 1980's they decide to open their doors into the JanSan industry. Simoniz has a full line of janitorial products performing extremely well in the field. After cleaning and shining cars for over 70 years, why not bring the same ingenuity to clean and shine floors and other surfaces.
Some products standing out from the rest are listed below.

Grip Products – If slip and falls have been plaguing you, get a Grip. This fascinating line of floor products actually reduces the slip coefficient to make the floors safer and your slip and falls less frequent. Simoniz went above and beyond with their GripCoat Floor Finish. GripCoat makes the floor 25% more slip resistant then OSHA requirements. More benefits: it dries quickly, removes easily with stripper, is chemical resistant and maintains a gloss level of over 90 with just 5-6 coats. Use the entire line for best results: GripCoat, GripStrip, GripClean, and ReGrip Ultra Restorer. Check out the specifics here.

Adhesive Remover – If you are tired of having adhesive stickiness left behind after removing stickers or decals off lockers, desks, windows, etc. This product works great! It is a water based formula and is suitable for a wide range of surfaces including but not limited to: glass, plexiglass, painted aluminum, vinyl and poly banners, and more.
Baseboard Stripping Gel – Most other baseboard strippers are very thin and tend to run. Simoniz's Baseboard Stripping product is gel based and holds well to the surface upon application. They have an inverted valve to make application easier.

Chewing Gum Remover – We still live in the day when people are sticking chewing gum to surfaces like walls, desks, etc. This product actually freezes the substance to negative 40 degrees so it will crack off easily. The Chewing Gum Remover also works on candle wax, putty and other gummy substances.
If you don't like touching chemicals or want an easier way to clean, Simoniz has a full line of Aquachem Packets. These are similar to the dishwasher or laundry packets you pop in your appliances at home but on a commercial level. Simoniz makes a full line from packets to pop in your autoscrubber for cleaning floors, to All Purpose Cleaners, Neutral Cleaners, Restroom Cleaners, and more. These are great to have on hand if you do not have a water supply to hook up a dilution system. Also great for cleaning contractors who are on the run. Just pop a packet in your 32oz bottle, fill with water and you are ready to go! See more information here.
Green Seal Certified Products? Yup, Simoniz has that too!! Simoniz created Green Scene for those facilities who strive to be sustainable with choices of DFE Or Green Seal Certified Products. From All Purpose Cleaners to Floor Care to Hand Soaps and more. Here is a full line list.
Simoniz USA shows their professionalism to the Janitorial Industry in an 8 video series dedicated to proper floor maintenance. Clicking here will access the introduction video. All 8 videos will be accessible on the right side of the screen once you click the link.
Simoniz USA not only provides superior products for cars, garages, and the janitorial industry, but they also have full lines in Food Service and Laundry Care as well. Over 100 years in business, and Simoniz has diversified over multiple markets mostly in the last 30-40 years. They continue to keep the Simoniz brand innovative as industries change throughout the years, not an easy task. If I tried to write about everything they offer, this blog would be endless. So here's to you, Simoniz USA, keeping it fresh and clean for over a 100 years! We look forward to 100 more!