IPC Eagle is a leading worldwide manufacturer of cleaning equipment and tools. Their mission is "Our promise to our customers is total support". With this in mind, IPC Eagle has a full line of microfiber tools and accessories and from this line a few tools stand out against the competition.
CLEANO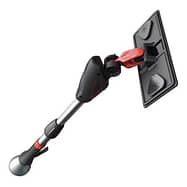 IPC Eagle boasts its Cleano tool. This fascinating device allows for easy cleaning of windows, mirrors, walls, and more. Affixing a microfiber pad on the end of an extension pole, helps to clean higher and lower without bending. And it's not just an extension pole. It has a fillable bulb at the bottom with a trigger, so you can put water in the bulb and shoot it out the top by the pad! Watch the video below to see how easy it is to clean windows, elevators, doors, partitions, counters, and more.
SLIDE FRAME
The Slide Frame is another great tool to have. Not just a standard Velcro mop frame! The central joint slides along a track in the center of the frame allowing you to use the mop on any vertical or horizontal surface to reach under and behind objects. The aluminum frame makes it extremely light and easy to maneuver behind/under fixtures, cabinets, and other hard to reach places. For hygiene there is a tab sewn into the mop, so you can press your foot against it and lift the mop to remove the pad without touching it. Here's another quick video.

ONE FRAME
The One Frame, shown above, is also something unique. If your facility uses a different types of mops such as Velcro and Pocket, no more searching your facility to find the right frame for the right mop. This One Frame can be used on both! Save money and time with having One Frame.
BRIX CART SYSTEM
Additionally, IPC Eagle brings you The Brix Cart System. This modular system allows you to build a cart to your specifications. The Brix system goes above and beyond with manufacturing at 75% recycled materials while the standard in the industry is only 35%. And, this isn't just plastic. It's antibacterial HDS plastic which severely decreases bacteria when transporting used materials. Bags, locked or unlocked cabinets, charging buckets, wringers, whatever you need, customize the cart just for you. Click here for the Brix Catalog.
IPC Eagle doesnt just make great cleaning machines. They also bring you the best in cleaning tools and microfiber. Thus allowing your facility to get a 360 degree clean with their quality products. Click Here for the full Microfiber Line.