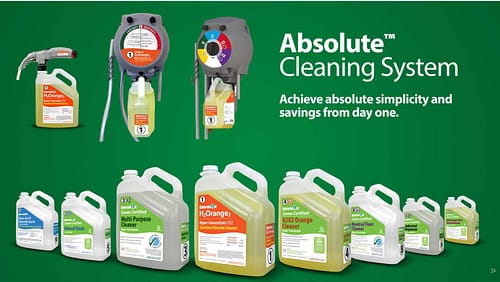 Envirox has launched their new Absolute Cleaning System. We are excited to help introduce and promote this new closed loop dispensing system. This newly designed Absolute Cleaning System provides savings in multiple categories like: number of products used in a facility, cost of products, space to store products, training, and more. Even with this new system, Envirox still stands by it's Pure Crafted line of products. They are committed to bringing you the healthiest products used to clean. Watch this great video on how their products are derived.
NEW DISPENSERS AVAILABLE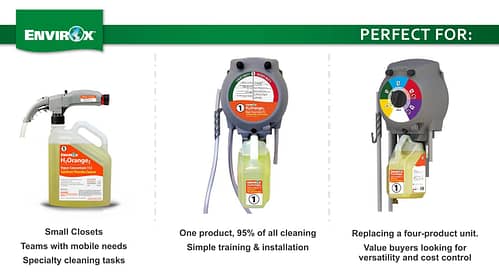 Are you tired of having to look through your cabinet of chemicals to find the one you need? With using the same products you can now achieve more. Let's take a look at the two wall dispensers currently available. In the center photo, you see the Absolute Single Dispensing System. You can't get any simpler with a green and red dilution. Two dilutions to do 95% of your cleaning. Red for heavy duty cleaning and sanitizing, Green for light duty, mopping, filling scrubbers, and general cleaning. Training takes mere minutes. Same great H2Orange2 117 product now in a hyper concentrate (named 112) which means the bottles can last longer = less storage space + decreased order frequency. 2 Gallons of Hyper Concentrate 112 = 4 Gallons of 117 Original Concentrate. The Absolute Single System gives you more control over your product with now using a closed loop system. What does that mean? It means there is a proprietary pre-inserted cap in each bottle which cannot be removed. So no more ability to glug glug Envirox products. Can you hear the money going back into your pocket? I can!
And now what we all have been waiting for the Absolute Multi Dispenser. This new dispenser allows a selection of 5 dilutions from low cost floor cleaner to super duty strength product and everything in between. Now turn your H2Orange2 Product into a Floor Cleaner, Light Duty Cleaner, Regular Duty, Heavy Duty and Super Duty. More savings since you get to pick from 5 dilution settings. You also have the ability to get just straight water from the dispenser. Again the closed loop system gives you the ability to control the dilution instead of pouring the chemical out. This dispenser is ideal for replacing any 4 product dispenser, has a smaller foot print, and has the ability to use 1 chemical for 95% of your cleaning. Envirox also offers some specialty cleaning products which fit the Absolute Multi Dispenser to supplement like: Neutral Floor Cleaner, Industrial Degreaser, and H2O2 Orange Tile and Grout Rejuvenator.  The dispenser is equipped with easy to follow color coding and pictures so language barriers don't cause misuse of chemicals.
Still not sure if it's right for your facility? Watch this quick video overview.
Recap on Benefits
Don't forget you save in multiple areas from number of products being purchased, how much product is being used, and easier right to know file. Envirox has always been committed to excellence, health, and safety. As times change and customer's provide feedback, Envirox listens, adapts, and delivers.
Click Here to See the Full Absolute Cleaning System Brochure