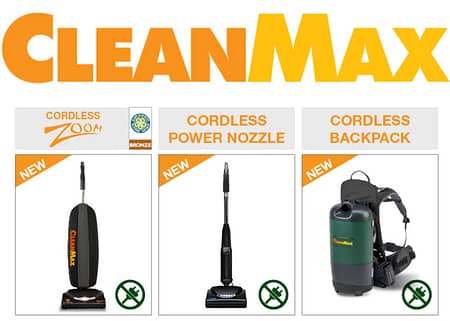 Cleanmax, a division of Tacony, has dedicated time and effort into bringing you a quality vacuum line. With their durable Pro-Series uprights to their BackPack with Hiker Harness, Cleanmax offers the best in vacuum lines and has now unplugged. That's right, they went cordless! Now you can get an upright, back pack, or power nozzle in cordless version.
Zoom 800 Upright Cordless Vacuum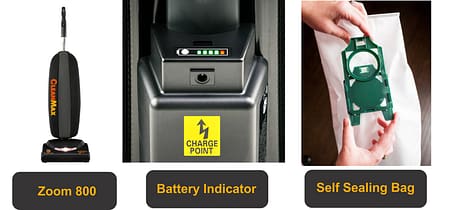 Cleanmax has blended ultra-lightweight, HEPA filtration and cordless in one upright unit. Weighing in at only 11 pounds, this vacuum is still a contender. The Zoom 800's 44 Volt Lithium Ion Battery gives you 50 minutes of run time and recharges in less than 2 hours. Continuous cleaning by simply swapping out a fresh battery when needed. Cleanmax continues to give you durability in the Zoom 800 with a metal handle tube, wheel axles and brush roller. The Zoom 800's 13" vacuum head also has an automatic height adjustment, so going from bare floors to carpet is a breeze! Click Here to see the full spec sheet.
Cordless BackPack
From soup to nuts, this 6 Quart Cordless BackPack is top notch. Supported by a Deuter's 5 Point Adjustable Hiker Harness with AirComfort, the Cleanmax Cordless BackPack is the most comfortable unit on the market. Deuter is the leader in hiking equipment, making this harness top of the line so you can do some serious cleaning with little stress to your body. The unit comes complete with a double bend wand, crush proof hose, and six different cleaning tools. The powerful 36 volt Lithium Ion battery keeps you going for up to 55 minutes and recharges in less than 2.5 hours. This unit also boasts HEPA Filtration because indoor air quality is important. Click here for a full spec sheet.
Cordless Power Nozzle
Pairing this Cordless Power Nozzle with the Cordless BackPack gives you the versatility of have two units in one. With a 44 Volt Lithium Ion Battery the power nozzle keeps up with the backpack at a 50 minute run time. Cleaning Contractors: Great for saving space in your van. Awesome on bare floors and hard surfaces too! Click here to see a full spec sheet.
Going Cordless gives you the freedom of going wherever you need to go without having to find outlets. It reduces trips and falls, reduces labor time, and improves efficiency. Cleanmax continues to bring you the best vacuums with the latest technology. Click here for a full catalog.