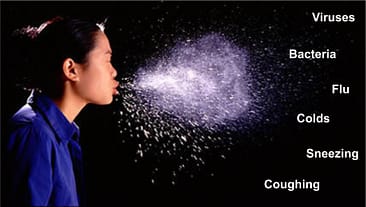 That's Right! It's Cold and Flu Season yet again. Sometimes it feels like it never really left. These days people seem to be coughing and sneezing all year round. Germs can live on a surface for over 200 days in standard conditions. Are you prepared to keep your facility from spreading germs? Using the products below can help alleviate absenteeism and keep your visitors and staff safe this cold and flu season.
Critical Cleaning – Use Critical Care
If you have high absenteeism, an outbreak, or you just want to be proactive this season, we recommend using Envirox's Critical Care. Critical Care is a silver ion technology based product designed to kill most germs in 30 seconds to 2 minutes and leave a 24 hr residual kill behind. Click here for specifications. What does that mean? After your daily cleaning process, spray Critical Care on every hard surface for added protection. The silver ion technology allows it to kill germs when they come in contact with the surface. Envirox Critical Care kills bacteria, viruses and fungus with a 0 rating on the HMIS Health scale. You can't get safer than that! And it's a great seasonal addition to any current cleaning process. See below for a visual.
Safer – More Effective Disinfecting and Daily Cleaning
Using safe, sustainable products for your disinfecting and daily cleaning is best for you, your visitors, staff, and the environment. You want a product working quickly and effectively, so you can save time and money. Well, have you ever tried Brutabs?
Brulin's Brutabs are the safest disinfecting product on the market today. With their NEW kill claim (Click Here) Hepatitis C and their 1 minute and 4 minute kill claims, Brutabs kill fast! Their active ingredient is used in water purification around the world. Simple to use with 1 large tablet per gallon and 1 small tablet per quart bottle. No dilution system needed, so you save space in your closet. Brutabs have a HMIS rating of 1 on the health scale as opposed to a 2 or 3 for most Quat Disinfectants. Save space in your warehouse too! One container of the 3.34 tablet (small) = 200 32oz spray bottles. One container of the 13.1 tablet (large) = 256 Gallons of product. Brutab's unopened container has a shelf life of 3 years and when mixed can last 7 days. It smells like pool water and is safe around children. Since Brutabs are safe, you can use them to mop floors, clean desks, white boards, and any other hard surfaces. Click here for product information.    OR Check out our blog here. 
---
Another great, safe product is Envirox's 117 H2Orange2 Concentrate. H2Orange2 in its 117 product can clean, deodorize, degrease and sanitize any water safe surface. Click Here to see more information. It's the only EPA registered stabilized Hydrogen Peroxide Sanitizer and Virucide. H2Orange2 117 kills 99.99% of Staphylococcus aureus, Salmonella enterica, Klebsiella pneumonia (bacteria causing forms of pneumonia and meningitis), Pseudomonas aeruginosa (bacteria causing pneumonia or blood infections), Streptococcus faecalis (bacteria causing forms of meningitis) and Escherichia coli (E-Coli). As a Virucide it kills 99.9% of Herpes Simplex 2, Influenza A2, HBV, and HIV-1 when used as directed by Envirox.
Hand Washing Is Important
Always keep in mind, Hand Washing is the most important. Keeping your hands clean is the #1 defense you can have in staying healthy this season. Make sure you wash your hands thoroughly for 20 seconds or more to give the soap an opportunity to attract those germs and rinse them away. Standard Hand Soap works just as good as antibacterial soaps, so don't think you need to spend more on antibacterial claims. The key to hand washing is removing the germs and getting them down the drain. Not killing them.
Check out this video and pay particular attention to the last 30-45 seconds.
Did you catch that? In a new study, they found refillable soap dispensers actually spread more germs to hands, then taking them away. This is because they are susceptible to being contaminated. So make sure your facility has cartridge style hand soap dispensers like you see below for the best protection.
Microfiber – Microfiber – Microfiber
As always remember to use microfiber during all your cleaning processes. Dusting, wet mopping, dry mopping, general purpose cleaning, etc. Whether you are doing general cleaning or specialty cleaning, microfiber comes in many varieties. Using microfiber allows you to have a cleaner facility all around.
Arm Your Staff and Fight Back This Season