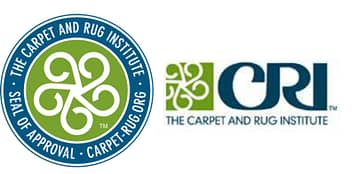 You may have seen this logo on product fliers, machines, or heard it touted by a manufacturing rep or during a demonstration of equipment. Do you know what it means?
The Carpet and Rug Institute performs laboratory testing on machines and cleaning products designed to clean carpets and rugs. They test and score machines and products in several areas so when you see this stamp of approval, you know you are getting a high quality product meeting their standards. So what are they actually testing?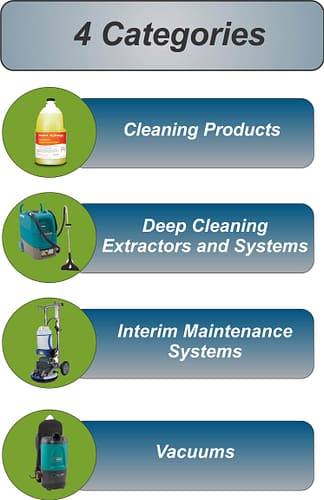 Across these 4 categories the following attributes are being tested: Soil Removal Efficiency, Resoiling, Residual Moisture, Surface Appearance Change, Colorfastness, PH Level, and Optical Brighteners. So let's break it down but not bog us down.
Cleaning Solutions
Here's what you need to know. CRI tests all carpet cleaning solutions submitted for their approval against water. How well does water clean the following spills/stains vs the cleaning solution: mustard, ketchup, hot black coffee, grape juice, permanent marker, chocolate syrup, dirty motor oil, and synthetic oil. Each solution is scored in the attributes listed previously and given a seal rating if the solution passes the tests. What's the bottom line? Any carpet cleaning solution with the CRI Seal of Approval successfully removes these stains without harming the carpeting. Some products you might want to use next time you have stains: Envirox H2Orange2 117, Envirox Carpet Cleaner, Envirox Carpet Spot and Stain Remover, Misco Prespray and Extraction Carpet Cleaner, Misco Encapsulating Carpet Cleaner, and Misco Rinse and Neutralizer just to name a few.
Deep Cleaning Extractors and Systems
Deep Cleaning Extractors will be tested and rated in the 4 levels above in how much soil is removed. All machines must pass the water recovery standards (leaving behind less than 8oz per yard) AND not harm the carpeting. Interestingly enough, there are no Platinum Level machines on the market today. Some Gold Units available are: Clarke EX30 500H, the Nobles Explorer Series C2, H1, H2, and H5, and Tennant's E series EC2, EH1, EH2, and EH5. Some Silver Units are: Tennant Q12, Clarke Clean Track 12, Minuteman X17, and Nobles Quick Clean 12. There are many machines in the Bronze Level from Clarke, NSS, Nobles, Tennant, and more.
When it comes to Deep Cleaning Systems, you must follow the cleaning system as outlined by the manufacturer for the system to work as rated. These systems are tailored down to exactly how many passes are needed with each equipment and how fast you can move the equipment in each pass. Crazy I know, but there needs to be a standard by which to measure. In this section there are Platinum Deep Cleaning Systems. Here is one Platinum Level outlined by Tennant's Orbio "first vacuum with a Tennant V-LWU-13 upright vacuum with 4 passes at 1.8 ft/sec, then pre-spray with hot Orbio Multi-purpose Cleaning Solution at 1 gl/200sqft. The carpet is then agitated by a carpet rake and allowed to dwell for 10 minutes. The carpet is then extracted using hot Orbio Multi-purpose Cleaning Solution in a Tennant EX-CAN-15-HPH Carpet Extractor with Tennant High Airflow Titanium Wand using 4 wet extraction passes at a rate of 1.0 ft/sec." If you would like to peruse Deep Cleaning Systems you can Click Here.
Interim Maintenance Systems

Interim maintenance systems are all about the process to best remove soil and improve the visual appearance of the carpet. They are usually less labor intensive then your deep cleaning systems. There are no bronze, silver, or gold on this rating. The CRI approval only means it works well on commercial cut pile or looped pile depending on the category the system fell into. Whittaker is the only system able to be used on both Cut and Loop Pile. All others: Karcher and Prochem are only approved for Loop Pile.
Here is one process for Whittaker: "the first step is to pre-vacuum with ProTeam Super CoachVac vacuum cleaner – two passes at 1.8ft/sec. The second step is to operate the Smart Care Twin Pro machine 2 passes using the dimpled rollers while spraying the carpet sample with the prepared Crystal Extract detergent at a rate of 1.0 ft/sec followed by 1 dry pass at the same rate. The final step is to vacuum thoroughly a minimum of 2 passes at 1.8 ft/sec after carpet is completely dry."
For the full list of Interim Maintenance Systems Click Here.
Vacuums
Finally, Vacuums! Vacuum ratings are great because it also helps you with Indoor Air Quality. The vacuums are rated on Soil Removal, Dust Containment, and Surface Appearance Change. So when you use an upright vacuum and you can physically see dust coming out of the bag, you can rest assure that machine is NOT CRI approved and your indoor air quality is at risk. Commercial vacuums are tested on 30oz/sq yd both cut and loop pile carpets. Bronze and Silver ratings adhere to keeping less than 100 particulate units in the breathable air. Bronze has a soil removal rate of 40-49% and Silver is 50-54%. The Gold rating ensures keeping less than 35 particulate units in the breathable air and has a soil removal rate over 55%. You can breathe easier if you have gold rated vacuums in your fleet which includes uprights, wide area vacuums, canister vacuums and back pack vacuums.
Nobles and Tennant have the ONLY back pack vacuums certified as Gold Level and Energy Efficient. In the standard Gold you have units from many manufacturers: NSS, Nobles, Tennant, Proteam, Cleanmax, and more. Silver Level boasts Clarke, Advance, Nacecare, more Cleanmax units, Proteam, Tennant, Nobles, and more. Bronze Level has machines offered by Bissell, Clarke, Minuteman, Nacecare, NSS along with many others.
The Carpet Rug Institute has dedicated their time to testing machines and products and rating them so we can compare easier. When you choose your next carpet cleaner, whether it's a cleaning product or machine, make sure you look for the CRI seal.