Well, some would say yes and some would say no. We are certainly not at the Jetson's stage yet. Why don't you read and decide for yourself? Over the past 20 years or so in the Jan/San Industry you have either heard or seen a robot here and there. ISSA vendors promote robotics each year, hoping for more understand and trending in our industry. The earlier versions where clunky, always bumping into things, and inconsistent with cleaning leaving much to be desired.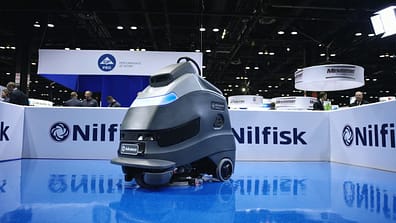 Over the past 10 years as the world advanced our technology, robots have now come a long way. With upgrades to navigation systems and motion sensor technology, some robots can see a 30 ft distance in a 360 degree site and react in 1/100th of a second to anything in its path. Avoiding obstacles like people walking in halls, furniture, or even stairs, the robots decrease the number of accidents in a facility believe it or not. Furthering improvements to batteries and intelligence, the new robots currently on the market have extended run times and clean more consistently then human workers. Robots don't think about having to use the restroom periodically, eating or smoking breaks, etc. So they just get programmed to clean, and they clean well consistently at the set pace.
Before you freak out and think the robots will replace humans, stop and think. The machines cannot fill themselves with water, clean themselves, or repair themselves. So we are still quite a ways away from full automatic cleaning with replacement of workers. The robots on the market now are designed as complimentary equipment to your current fleet. They might replace an autoscrubber, but they are not replacing humans.
If you think about it, a robot can do only main labor intensive simple tasks like scrubbing floors in open spaces or hallways or vacuum carpets in the same respect. These robots are not dusting, cleaning desk tops, or any other detail work. But think of the possibilities your staff can now perform with the extra time, where they couldn't before.
So where can robots be justified, since they cost nearly $30-40K? In my opinion, the only system where it truly is financially beneficial are in hospitals and medical buildings. Since these facilities are rated on the CAHPS (Consumer Assessment of Healthcare Providers and Systems). In the world of healthcare, insurance companies like Medicaid pay a percent of billing based on the CAHPS scores. The higher the CAHPS score the more the insurance pays out. So it is an incentive to have cleaner facilities and an increase in CAHPS can more than pay for the machines.
With customized wrappings around the machines, you can have them look any way you want. A hospital in Hawaii has theirs looks like school buses and other vehicles with actual vehicle sounds. The patients look in amazement as the machines go by. As patients engage with the machines and physically see them cleaning, the perception of cleanliness has increased. This directly impacts the CAHPS score and testimonies from the hospital in Hawaii say they have been able to sustain a 5-10% increase in scores resulting in millions of dollars in revenue.
Europe and Asia have embraced robotic technology a bit faster than the US. Watch this short clip on how this facilities manager feels about his robot and his staff.
Clearly, the machine is NOT replacing his staff any time soon. Staff can now focus on cleaning other critical areas the robots cannot. Beds, Railings, Door Handles, other high touch places, Dusting, Restroom Cleaning and more all still need to be done by a human. Now these jobs do not need to be rushed and done poorly by being overworked. The staff can perform better in these areas keeping hospitals cleaner and safer for patients, staff and visitors.
So what do you think about robotics and the Jan/San Industry?