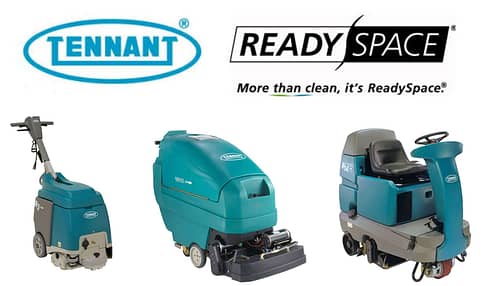 Do you have carpeted areas and high foot traffic in your building? High Rise Buildings with long hallways on multiple floors, banquet halls, hotels, hospitals, casinos, retail stores and more could all benefit from having a Tennant ReadySpace Machine.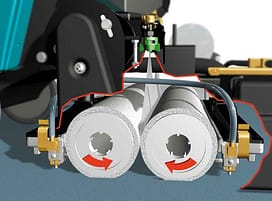 ReadySpace technology uses soil transfer rollers rather than soaking the carpet itself. Using this new rapid drying technology allows you to clean your carpets more frequently and have them ready to use in minutes. Improve facility appearance, have your carpets last longer, and save on water consumption while using ReadySpace.
Not only can you clean during business hours, but since you are not soaking the carpet, no need to run air blowers or dehumidifiers to get the carpet dry or worry about mold and mildew smells. Given that the water is being sprayed onto the rollers and not the carpet, there is virtually no wick-back.
Watch this quick video to see how it works.

Let's take a look at the units available.
Tennant R3

The smallest unit available, the R3 compact ReadySpace machine gives your facility versatility with interim cleaning. This cord electric unit features a 15" cleaning path and a foldable handle for easy, compact storage. The R3 holds a 5 Gallon removable solution and recovery tank and operates at a low 69 Decibels, so you can clean during business hours. Clean high traffic areas regularly to keep your facilities appearance top notch.

Tennant 1610

Get the best of both worlds with the Tennant 1610 Battery Walk Behind ReadySpace Extractor. This uniquely designed unit allows you to change out the ReadySpace Rollers for Standard Extraction Brushes, so you can do both deep restorative cleaning and interim cleaning when needed. Easily change from interim rollers to restorative brushes with no tools. It's that simple! The Tennant 1610 features a 22" cleaning path with a 21 Gallon Solution and Recovery Tank. Perfect for larger facilities like high rise buildings, banquet facilities, casinos and more.

Tennant R14

Already one of the only Rider Extractors on the market, Tennant's R14 stands out with its ReadySpace technology. This machine offers both deep extraction cleaning and ReadySpace interim cleaning like the 1610 but with the convenience of a rider. With a 28" cleaning path and 28 Gallon Solution and Recovery tanks, the Tennant R14 is efficient and saves you money. Airports, malls, hospitals, executive buildings and more can now frequently light clean allowing you to have fresher looking carpets every day.
If you are looking for new innovative ways to clean and want your carpets dry in minutes, get a demo of a Tennant ReadySpace machine today!