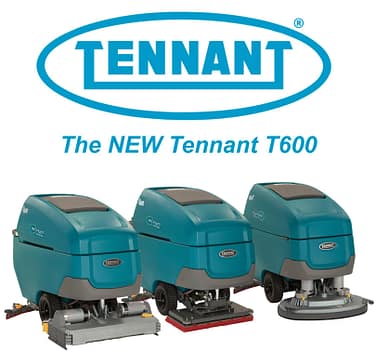 On a sad note, Tennant says goodbye to their 5680 and 5700 units from the Tennant line. These two units have sold the most since 1995. Excitingly, we get to introduce the new T600 taking their place. As Tennant continues to redevelop their line of scrubbers, they have finally launched the new T600 Industrial Grade Walk Behind Scrubber. Though we are sad to say goodbye to such iconic equipment, the new T600 is more than capable of performing the same tasks with added benefits. Let's take a look.
The Tennant T600 supports all the great designs of the new Tennant T500 like
Yellow

Touch Points
for easy access to maintenance items and reminders the operator what is safe to touch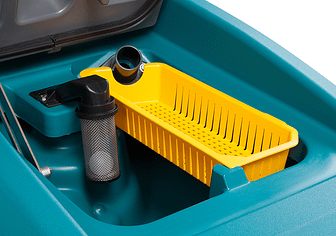 Zone Settings on Standard Operator Panel
If you need specialty settings for different areas of your facility, you can program up to 3 zones with the standard panel. This gives operators a quick one press function and the machine is ready to go.
Optional Full LCD Screen
The LCD Screen gives operators on screen manuals and tutorials along with a 4th zone setting. The zone settings can be named in supervisor mode. 
Drain Hose Control Knob
Auto Fill Port 

Spray Jet 
This optional feature gives you the benefit of rinsing your recovery tank where you need to, even if a hose is not readily available.

Smart Water Automatic Battery Filling System
Just fill the reservoir with distilled water and go. The unit will automatically fill the batteries after each charging cycle. When the reservoir is empty the display will indicate more water is needed. If you do not fill the tank, the unit will only run for 10 hours before shutting down and requiring the fill.  Getting this feature alone will save you tons of money on your batteries.
Optional Orbital 28" Deck
So what makes this unit Industrial Grade? Tennant understands the harsh environments of industrial world. With this in mind, the T600 comes equipped with a corrosion resistant scrub deck. The NanoClean Technology when added to the unit can be coupled with a Severe Environment feature. This feature delivers a burst of cleaning solution for 30 seconds to get those tougher spots, or if you hold the button for 2 seconds Severe Environment system will be turned on for continuous use. Some manufacturing facilities require machines to be fully electrically enclosed and Tennant knew this was a must. So no worries, the Tennant T600 has an EE (Electrically Enclosed) option. All these features and more, check out the brochure for more details.
The T600, in disk, now has a Diamabrush option. The Diamabrush system offers special diamond cutting drivers to polish your concrete surface. These drivers have replaceable diamond blades used to cut into the concrete with different grits. Your facility will keep its professional look every day with less hassle. Watch this short video to see how it works.

Tennant continues to show why they are a Giant in the Equipment Industry. With their line of revamped units making it's movement into the small industrial realm, Tennant keeps wowing customers with new features and added benefits. If you would like a free demonstration, hit the button below to contact us.