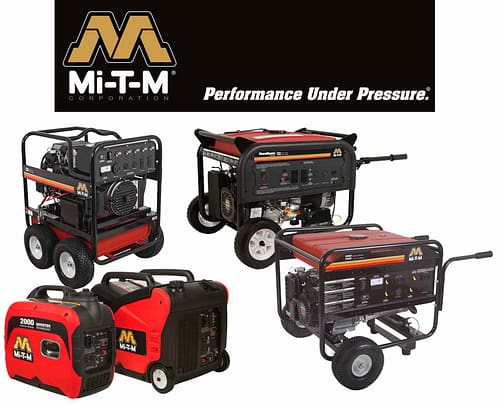 Construction jobs need to run equipment while putting up new buildings. Everyone needs generators for power outages. Some companies need to run computers, medical equipment and other sensitive electrical devices. From every day use to critical situations, Mi-T-M gives you power when you need it most. Their full line of generators offers you what you need, when you need it.
With the high winds this year on the east coast, power outages where a regular occurrence. But you can't wait until you are out of power to get a generator. Lines become extensive, and product runs out fast. Whether you need to keep your company running on essentials during outages (scheduled or unplanned), run medical equipment and other sensitive electronics, camping, RVing, or small construction projects, Mi-T-M has you covered. The Inverter and Choremaster series are where it's at.
INVERTER SERIES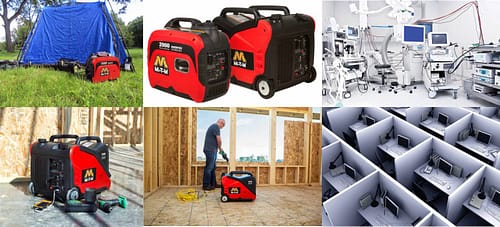 The Inverter Series is perfect. This compact duo are supported by Mi-T-M OHV engines, low oil shut down, insulated side panels for reduced noise, USB Ports, and Idle Control. Inverters are available in 2000 or 3000 watts with 79cc and 212cc engines respectively. The 2000 watt unit holds 1.1 gallons and can run for 6 hours while the 3000 watt unit holds 1.8 gallons and runs for 6.75 hours. Both are compact and portable with the 2000 watt weighing in at 50lbs (easy to carry) and the 3000 watt weighing in at 90lbs supported by a wheel kit with rear folding handle.
CHOREMASTER SERIES
The cost of not doing business is always higher than investing in a generator. Don't wait for a power outage to put your business on the rocks. Invest in the Choremaster. Not only for power outages but great for smaller construction jobs. The Choremaster is available in 3600, 6000, or 8000 watt with 212, 389, and 420cc engines respectively. The 3600 runs on 4 gallons for 8.5 hours, the 6000 runs on 6.6 gallons for 6.5 hours, and the 8000 runs on 6.6 gallons for 6 hours. All units are equipped with a 1" steel tube wraparound and GFCI receptacles. The 6000 and 8000 come standard with wheel kits. All units have the ability to take a RV adapter. Need to get a little more power up to your construction guy who is up a couple stories? Just have a lifting hook installed from the factory.
6000, 7500, 8000 SERIES
This series is no joke. Great for professional industrial construction jobs powering multiple tools to get the job done. All units boast a large 7.3 gallon gasoline tank, heavy duty industrial air cleaner, 1" steel tubing frame, idle control, GFCI receptacles, and 389-429 engines with your choice of electric start or standard. The 6000 can run for an entire 8 hr shift, while the 7500 and 8000 can go almost 7 hours. The wheel kit is not standard, though shown above on the 6000 unit for easy transportation. You can also customize with a lifting hook for those high jobs. The 6000 has the option of being diesel with a 2.6 gallon tank to run almost 7 hours. Now construction crews have most possibilities to get the right equipment for their needs.
14000 UNIT
Need more power? Mi-T-M has got you covered with this 14000 watt unit. Go big or go home right? Mi-T-M went all out on this unit. Having the 14000 is like having a power plant on site. With a massive 688cc Honda OHV engine with electric start, 13.2 gallon tank, and the ability to run for 8 hours, you can't go wrong. The 14000 have everything you need standard on the unit: 1 1/4" frame with lifting hook, 13" dual flat free tires with steel threaded axles, heavy duty air cleaner to take on the toughest jobs, and low tone mufflers.
From big jobs to small jobs, heavy duty equipment to sensitive electronics and medical grade equipment, Mi-T-M thought of it all. They even have more generators than what I have just highlighted above. For more information feel free to contact us any time.