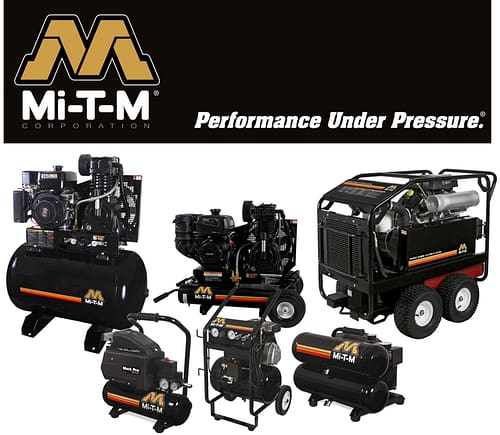 I am just beyond impressed with the units Mi-T-M has to offer. We have covered Pressure Washers and Generators, now we have Air Compressors. The list of Mi-T-M air compressors available is astounding. From tiny 3 gallon units to behemoth 120 gallon units and everything in between, Mi-T-M really has everything a contractor, shop, service truck, and any commercial or industrial company may need.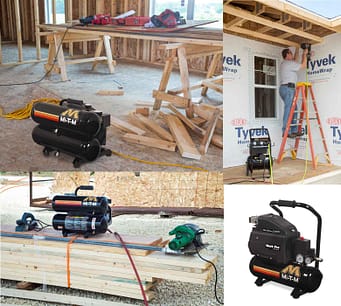 For small jobs Mi-T-M's 3-8 gallon units are perfect for running tools like drills, grinders, nail guns and more. With a 3 – 13.9 CFM, you can tackle any small to medium sized job or have it on hand as a quick portable unit. All units are available in electric but the 5 and 8 Gallon Single Stage units are also available in gasoline for added versatility.
Need a more pressure? The 8 Gallon is available in a 2 Stage Unit offering 175PSI with 17.2 CFM, and you can run multiple tools including air hammers and impact wrenches. Perfect for small service vans or shops! Need more air? Mi-T-M thought you might. Move up to the 20 Gallon unit offered in Single or Two Stage with some models having extra air storage. Between the 8 and 20 Gallons Two Stage units, you have a choice between a 270cc Honda engine or 277cc Kohler engine giving you all the power you need. Service truck mount kits, Electric start, and Remote start are some of the options available on these units.
Mi-T-M has even larger units! Holy air compressors Batman. If you have much larger applications such as larger service trucks, major construction jobs, large automotive/truck/service shops, or any other Industrial setting, you can move on up to the 30/80/120 Gallon units. These beasts offer 389-429cc Engines or 5-15HP with 200-460 Volts. Choices on Electric, Gasoline or Diesel, 18-93CFMs, Simplex to Duplex Systems, Horizontal or Vertical Mounting, and Cable Throttle or Pneumatic Engine Idle Control. Truck mount kits, remote start, vibration isolator pads, after cooler, electric or pneumatic tank drains are among the options available on these units.
Finally you have the mama jamma of all mama jammas, the Mi-T-M Rotary Screw Unit. Weighing in with a 999cc Kohler Engine to give you 115CFM, this bad boy ain't no joke. Powering Jack Hammers is no problem for the Rotary Screw. Perfect for road crews, DOT, and other super heavy duty applications!
From soup to nuts, Mi-T-M has everything you need and more: home, commercial, industrial, and super heavy duty industrial. From construction sites to service vans to industrial truck mounts and shop applications and more! Mi-T-M has got you covered no matter where you are or what you are doing with your air compressor.