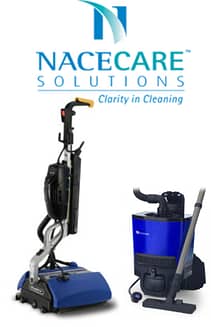 We would like to take the time to highlight one brand new unit from Nacecare and one redesigned unit. Both units are an impressive addition to the cleaning industry and we thank Nacecare for their innovative designs.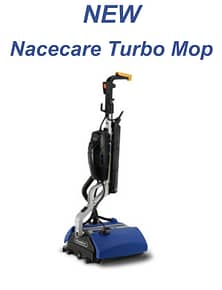 First let's look at the NEW Turbo Mop. This brand new Compact Battery Scrubbing unit has some awesome features: 1 hr battery run time, low profile/compact design to fit under desks and bathroom stalls, push or pull with turning radius of 360 degrees, and optional rapid battery charger. The Nacecare Turbo Mop stands up to its competition with its 12.5" cleaning width and 1.2 gallon solution capacity. Add in an effective vacuum system good enough to pick up debris and the ability to clean on multiple surfaces including VCT, Tile/Grout, Rubberized Floors, and Carpeting, and you have yourself wall to wall cleaning at its best!
Check out this short video!

________________________________________________________________________________
Nacecare has also redesigned the RBV130 Battery Back Pack Vacuum, calling it the Latitude. With a now 75 minute run time, the Latitude packs more power than before. It has a 2 speed switch, 2 stage vacuum motor, and the patented tank designed to allow you optimal performance no matter how full your bag is. Cutting the cord and going cordless allows you vast versatility with cleaning stairwells, elevators, long hall ways, and any other place troublesome cords don't belong. The always impressive hiker harness is a great feature along with a smooth 45 Dba rating for daytime cleaning made easy. The power switch and battery gauge are on a short cord connected to the belt for easy sight and reach.
Watch this quick video to see if this unit is right for you!

There are many innovations in our industry. The biggest movement is battery powered smaller equipment like back pack vacuums, upright vacuums, etc. Thank You Nacecare for adding to the innovations of our time. We look forward to more new units!