PrecisionFlo – 5 Ways to Dispense Your Product
Misco's new PrecisionFlo design has a unique 5 way system to give you options on dispensing products. There is a 4 Product Cabinet Dispenser, Single Unit Dispenser, Wall Rack holding 6 Products with Dispenser, a Handheld Portable Dispenser, and a Disposable Portable Dispenser. When it comes to versatility, Misco spared no expense. At the bottom of each bottle you can see exactly how many gallons or quarts your product should yield. You can use their standard or Elements (many EcoLogo Certified) products whether you have all the room in the world in your janitor's closet or no room at all. So let's dive in.
PFX Multi-Product Dispenser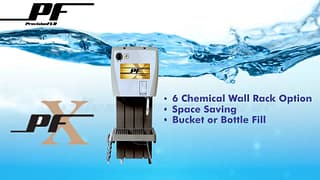 Are you the type who likes to have a choice of product instead of whittling it down to just a few? The PrecisionFlo X is for you! With a wall rack holding 6 products, you can choose from a myriad of chemicals to do the job. The unique docking station gives you plug and play with your 80oz bottle products. Just insert the product you want into the docking station and you are ready to dispense.
PFQ4 Product Dispenser
Misco's Q4 Dispenser is a traditional 4 product cabinet design with some great features. Large windows on each door allow you to see how much product is left and since you are using 80oz bottles, you do not need to replace your product as often. The ability to have a fresh water selection keeps you from having your water line confiscated by product only dispensing. The closed loop system keeps safety at the top of the list. You can bucket or bottle fill any product in the dispenser and the dispenser comes pre-plumbed for easy install. If you have the room in your closet and you use a 4 product system, it is a great dispenser to have.
PFS Single Button Chemical Dispenser
Misco's PrecisionFlo S give you flexibility to mount 1 or more dispensers by daisy chaining them together. This dispenser uses a bracket design to hold the 80oz bottle along with a special button at the top for bucket or autoscrubber fill. Same great features with a space saving design. So if you need specialized a product in certain areas of the building, you can save space with this PrecisionFlo S design.
PFP & PFD Portable Dispensers
Misco has two portable units available for those who don't want to use any wall space and be completely flexible. The PFP give you a trigger gun which you just screw the cap down onto the 80oz bottle, hook yourself to a hose, choose your dilution and fill. There is a red locking ring for continuous flow and hanging brackets. Nice features when filling mop buckets or autoscrubbers. You can also purchase a foamer hose to convert your product into foaming action.
The just released PFD is a completely disposable bottle with a quick disconnect. This system uses a 3 liter bottle with your choice of bucket or bottle fill. It also has a clip system for bucket and autoscrubber fills. The starter kit gives you a quick disconnect, 6ft water hose, and a Y splitter. Take a look at the video below.

Cost calculator
Misco has also created this great Cost Calculator for their PrecisionFlo products. Now you can see how much your in dilution costs will be once you get a quote from a distributor. Just click on the link below, plug in your cost and see your dilution costs. Not to mention with 80 oz bottles, you will be replacing your bottles less and saving on labor time.
You can check out the full brochure here for a list of products available for each dispenser and more information.