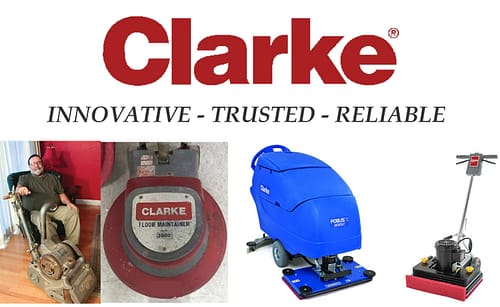 Clarke has been around for over 100 years and their evolution in cleaning equipment has been world renown. Starting with a simple wood sander in the early 1900's and by 1953 Clarke invented the first automatic scrubber called the Clarke-A-Matic. The 50's also brought the dearly loved and rugged Floor Maintainer. The Floor Maintainer was so popular by 1971 they had sold their 1 Millionth unit. Then in the 2000's Clarke brought you the Wash and Rinse carpet extractor line, Rider Scrubbers with Joystick technology, and BOOST the first oscillation technology ever invented.
Clearly Clarke has been a leader and inventor in our cleaning industry. Clarke continues to bring unique pieces of equipment to the table and we would like to highlight some of them along with some simple and rugged cleaning contractor pieces. Clarke's line of products are simple, effective and affordable.
MA10 12E
Spreading dirt around with a standard mop when cleaning hard surfaces just doesn't cut it these days. It was great for the 70s like bell bottoms were but we have moved past that now. Technology has become so small you now use something the size of an upright vacuum for cleaning small, high-traffic spaces and spills quickly and effectively. Clarke keeps versatility at the forefront, so this unit is also capable of performing on carpeted surfaces as well. You can check out this quick video and click here for a brochure.

MA30 13B
Ever walk into a store, restaurant or any other establishment and your shoes are literally sticking to the floor? This compact scrubber is simple and efficient, which means no establishment should ever have sticky floors. With a lithium ion battery giving it 40 minutes of run time, you can do any smaller establishment. The MA30 13B features a debris tray for light debris pick up as large as a French fry. With easy to fill, removable tanks, this unit is great for cleaning contracts too. Watch this great video!
MA50-15B / CA30-17E / CA30-20B
All three of these scrubbers are great for cleaning contractors and anyone wanting to keep budget costs to a minimum. It gives you the ability to clean your facility without breaking the bank. These no frills units are simple to operate making training a breeze, rugged for tough jobs, and affordable. The CA30-17E is a cord electric walk behind scrubber with a 13 Gallon Solution and Recovery Tanks. The CA30-20B is a battery walk behind scrubber with a 10 Gallon Solution and Recovery Tanks. Finally the MA50-15B is a compact battery walk behind scrubber with a 15" cleaning path and 3 Gallon Solution and Recovery Tanks. Check out the brochures below.
FOCUS SERIES
The Focus II series of scrubbers gives you everything you want in a scrubber. You have the ability to choose maintenance free batteries over lead acid and a choice between disk, cylindrical, or Boost (oscillating) Technology. From walk behinds to riders and 20" to 34" units, the sky is the limit. You can even add on a chemical mixing system. Check out this testimony from Pittsburg Unified School District.
EX40 16ST and 18LX
Clarke's line of innovative equipment doesn't stop at scrubbers. They have a very uniquely designed carpet extractor called the EX40. This self-contained extractor has the ability to add on a wand and carpet floor tool, upholstery tool, and you can even get an option to use the machine on a hard surface just like a scrubber. Versatility – Check! Watch this video and check out the brochure.
FM40LX
Since Clarke was the first to design oscillating units it's only right they are the only ones to offer an oscillating floor machine with an added front pad. The FM40LX allows you to clean/strip your baseboards while you clean/strip your floors.
Summit Pro 18SQ
Last but most certainly not least, the Clarke Summit Pro 18SQ was acquired when Nilfisk gained the Viper line. This unit was the original Viper Shovelnose. The Summit Pro 18SQ is one of the most rugged wet dry vacuums on the market. Simple, efficient, rugged, and affordable, the unit comes with a 24" front mount squeegee, 5 piece tool kit, wand, 9ft hose, and boasts an 18 gallon recovery tank. You also have the ability to store all of your pieces in the handy storage compartment, making it much easier to transport and not lose your attachments.
Clarke has a reliable history of innovation and design with the customer's need in mind. We say thank you for Clarke for your continued R&D to make our industry equipment unique and functional. Here's to another 100 years!