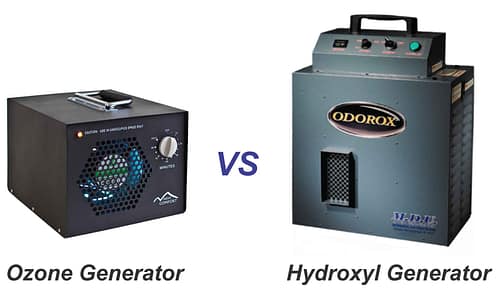 There are so many products on the market today to clean and sanitize air and surfaces. The two main processes you see are Ozone Generators and Hydroxyl Generators.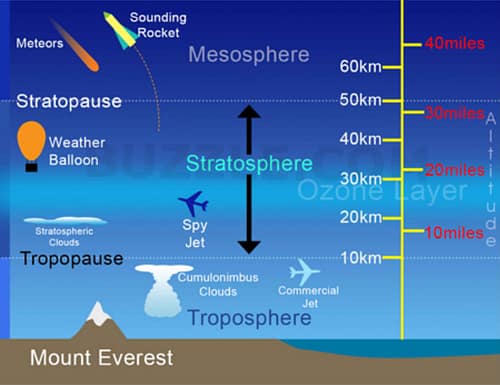 To understand these two products you need to understand science. In the simplest terms, Ozone mainly (90%) exists in the Stratosphere which is 6-10 miles above the surface of the earth. The majority of ozone resides there to absorb most of the biologically damaging ultraviolet sunlight. So little ozone resides near the surface (troposphere) at a rate of 10 parts per billion. I'm not sure if the image below even has 100 million marbles in it, but among them is one lonely yellow dot representing the natural occurrence of ozone in our breathable air.
In our daily lives, no matter where you go (city, forest, etc) you will breathe ozone at a rate of .08-.04ppm (parts per million). There are meters throughout the country constantly measuring the ozone in our breathable air. Ozone has been proven in studies to kill germs and reduce vocs (volatile orgranic compounds). Therefore, ozone is safe in low levels and OSHA states 0.1ppm over 8 hour exposure is safe. (FDA says 0.05, EPA says 0.07)
Hydroxyls exists at the surface at about a 50% rate as the earth uses hydroxyls to cleanse the air and surface regularly. I don't think I need to represent 50% in an image for you to get the idea. Science magazine states: "Hydroxyl radicals are often called the "detergent" of the atmosphere because they control the atmosphere's capacity to cleanse itself of pollutants." Dr. Connie Arrabs explains in a short video how hydroxyls exits in our everyday life and how they were discovered.
If you would like to really dive into science, you can check out the links below for more detailed information.
So in a nutshell, Ozone exists to break down harmful UV light, stays high in the upper atmosphere and only in extremely low concentrations in our daily life to cleanse the air. While Hydroxyls exist to cleanse the earth of pollutants and exist at concentrations near 50% in our daily life. So what does all this mean?
Ozone Generators putting out high amounts of ozone work BUT are extremely harmful if exposed. Rooms being treated with Ozone Generators need to be sealed off, HVAC systems need to be shut down or protected so the Ozone doesn't start spreading through the building, and the area cannot be occupied. The EPA had to come out with information on Ozone Generators due to claims made by companies stating it was safe or indicating it was safe to use in occupied spaces.
You must understand: Just because items are registered with the EPA, it does NOT mean the EPA endorses the product or even claims it to be safe. The EPA registers products to can keep track of who is making them and how they are being marketed in order to keep consumers safe and properly informed.
When units emit very low, remember OSHA 0.1/EPA 0.07/FDA 0.05, then you are safe. You are breathing it everyday you walk outside in these extreme low amounts. Ozone is an essential part of our breathable air to add to the cleansing of germs and vocs. Many units are now coupling every low ozone with hydroxyls and bipolar ionization.
Hydroxyl Generators recreate Earth's natural process to cleanse the air and surface. Hydroxyls are generated by water droplets reacting with UV light. If you are in an extremely dry area, you can run a humidifier while running your hydroxyl unit to help it create more hydroxyls and work faster. However, normal humidity levels are good for Hydroxyl Generators to work. Spaces can be occupied with Hydroxyl Generators, so there is no need to vacate the area being treated. This helps businesses continue to run as normal with no down time. The EPA has no statements at this time on Hydroxyl Generators. You can watch the video below from a renowned scientist about Hydroxyls.
Why do we NOT have harmful effects to Hydroxyls?
Dr. Connie Arrabs explains.

So why am I giving you all this information. I believe in making sure customers are making informed decisions. You should know the products you are using and the possible pitfalls to using them.
Bio-Shine Inc. stands behind its products and fully endorses OdoroxAir Hydroxyl Generators as Green Cleaning and safe to use. Many of us have used them in our homes for a variety of issues (illness and odors are top of the list). We were able to save the contents of a home fire and restore the items so there was no smell of smoke. There was a school with a mold issue taking over their cork boards in the hallways and OdoroxAir Hydroxyl Generators were used to successfully eradicate the mold. OdoroxAir was able to save Costco millions of dollars in product when they had a warehouse fire. It is bringing what earth uses to clean and bringing it indoors.
Testimonials
As former President of the NJ School Buildings and Grounds Association (NW Chapter), Buildings and Grounds Supervisor at Rockaway Twp BOE and New Jersey Association of Designated Persons- EPA 2010 Connector Award for innovations in IAQ- NJDOH/PEOSH IAQ Trainer I run into many indoor air quality concerns. Unpleasant odor in classrooms, nurses offices, storage areas are extremely common and cause both students and staff to complain while interrupting their day. Providing Odorox equipment in these problem areas eliminates these issues quickly and effectively making my job a lot easier.
Arthur Pierfy
Supervisor of Buildings and Grounds, Rockaway Township School District
I would like to thank you for introducing our hotel to your green technlogy for odor elimination.
Lilly Sirkin, Head of Housekeeping Services
Hilton
I have gotten nothing but rave reviews from adjusters who want to implement the Hydroxyl system on more restoration jobs.
Jim Palmieri, General Manager
Allpro Restoration Services
Thank goodness you provided us with the Hydroxyl Odor Processor. We have had this machine operating for the last 48 hours and the house is now odor free. We would highly recommend this machine to eliminate smoke and other nasty smells.
Linda & Will
Private User
The odor and bacteria were all eliminated. I can only imagine the multitude of applications this product could be used for.It is light, easy to move and is quiet to operate. Thanks to The Boss, we were able to complete our restoration. Thanks for bringing such a great product to market!
Mary Freedman
Private User
Your machine was very useful for sanitizing our air in all (common) areas including lounges and dining room. Our home was able to keep flu outbreaks at a very non-existent level. We put the machine into resident's room-who were showing signs of illness-and within a couple of days all signs were diminished. Thank you all for keeping our air healthy and wishing you much success
Lisa Duncan, Marketing Coordinator
Lakeshore Place Retirement Residence
And these are just a few. From Long Term Care Facilities, Hotels, Restoration Companies, Insurance Companies, Property Management, Educational Facilities and more the uses are far above any other unit. The OdoroxAir has the ability to kill bacteria, viruses, eradicate mold, remove odors and VOCs, and more. Click Below for the Efficacy Ratings.
So How Does It Work? Dr. Connie Arrabs Explains
OdoroxAir machines come in for both big and small jobs and everything in between. From a small MySpace unit with the ability to work from 300-500 sq ft to large units mounted inside your HVAC system, OdoroxAir can be used anywhere. Rutgers uses the Air Curtain unit in their locker rooms to keep athletes safe from MRSA and other harmful bacteria and viruses. Locker rooms, fitness facilities, day cares, educational facilities, restoration and insurance, hospitals, veterinaries, prisons, long term care facilities, sports arenas, nurse's offices, property management and hotels, and lots more, Odorox uses are endless.
The new OdoroxAir Architech has been a great addition to the fleet of machines. It gives you the ability to mount it within a ceiling tile for discrete operation and continuous clean air.  You can see a list of all machines and uses by clicking below.

Watch this short video on what OdoroxAir can do for you.
Rent or Buy?
If you have a short term need, you can rent a unit. If you find you have a long term need, you can purchase a unit for your facility.
If you have any questions, feel free to reach out to us any time dmatisoff@bio-shine.com. You can also like/follow us on twitter or facebook for uses, updates, news, etc.