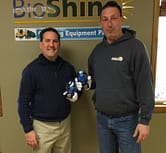 In 1991, Glenn Rothstein and David Matisoff founded Bio-Shine, Inc., a growing janitorial & building maintenance distribution company. Today, Bio-Shine is among the industry leaders who continually provide education to its customers through onsite training, classroom style seminars, and industry trade shows.
Bio-Shine continues to expand and distribute to Public Schools, Private Schools, Colleges, Universities, Municipalities, Government, Industrial Facilities, Warehouses, Contractors, Healthcare, Building Management, Religious Facilities, and much more.
Bio-Shine is an active member of the NJ State Approved Contracts – Educational Services Commission of New Jersey Co-op (ESCNJ), Hunterdon County Educational Services Commission Co-op (HCESC), Educational Data (Ed Data). We are an active member of the International Sanitary Supply Association (ISSA), NJ Sanitary Supply Association (NJSSA), and NJ School Buildings and Grounds Association (NJSBGA).