Breathe Easier With Air Purification Solutions For COVID-19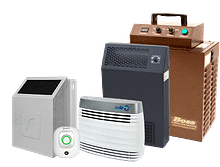 Active Air Purification sends oxidants out into the air to kill germs, remove odors and decontaminate VOCs very quickly. Small units can be worn around the neck for personal clean zones, medium size units can be fixed to buses for clean air during travel, and larger units can be used in rooms, lockers, gyms, warehouses and more. Oxidants such as hydroxyls or low level ozone, seek and destroy contaminants and pollutants in the air and on surfaces including germs like COVID-19 and Norovirus, and even mold.
Since, you breathe hydroxyls and low level ozone every day outdoors, they are safe and can be run in occupied spaces. When ions are generated for a personal clean zone, they repel germs, odors, and VOCs to make your N95 mask 3000 times more effective. Learn more about the different types of Active Air Purification Products and Information
Air scrubbers are portable filtration systems that remove particles, gases, and/or chemicals from the air. These high volume processing machines draw air in from the surrounding environment and pass it through a series of filters to remove contaminants. HEPA filters allow air scrubbers to remove bacteria and viruses from the air passing through the machine.
Let's have a conversation about specific solutions for your space. Please complete the form below.