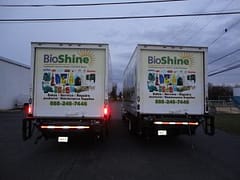 Are you looking for a true professional to assist you solving your cleaning needs.  We provide equipment repair and training, chemical mixing system and restroom paper dispenser installations, specialty floor process including wood refinishing and Terrazzo refinishing, and much more.
We'll visit your facility, outline your deficiencies, and provide solutions.
Restrooms – toilet paper, hand towels, hand soap, Microfiber products, fragrance dispensing, chemicals, equipment and much more…
Hallways / Class Rooms – cleaning chemicals, waxes, strippers, floor pads, equipment, safety shoe covers, and much more…
Gymnasium – Solvent and Water Bases Coatings, cleaning tools, gym floor cleaning chemicals, equipment, and much more…
Matting – Entrance Mats, Sports Mats, Anti-fatigue Mats, Logo Mats, Pool Deck Mats, and more.
Contact us to learn more.